Kuration Media introduces Mrs Robinson
The lifestyle site, targeted at women over the age of 40, will offer advertisers both short-form and long-form sponsored content opportunities.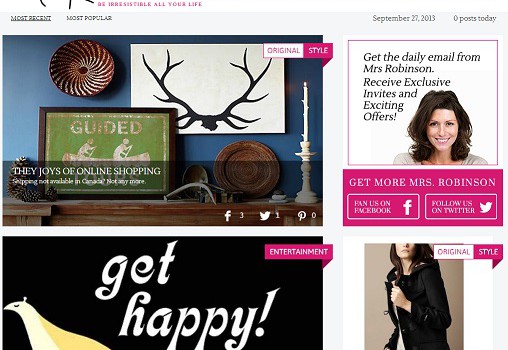 Kuration Media Group, a network of social media-driven lifestyle sites, has launched Mrs Robinson, a new daily online publication targeted at women over the age of 40.
Available on desktop and tablet devices, Mrs Robinson will offer a mix of style, life, food, entertainment and travel content from a network of contributors and bloggers.
Lisa Richler, founder, Mrs Robinson, tells MiC the site was launched because they felt there was a lack of publications in the Canadian publishing space speaking specifically to the modern, over-40 woman.
"Today, older women are sexy [and] fun. They spend money, travel, go out for dinner, travel and drink wine. They've got a healthy disposable income," she says. "No one was really touching on this, so there seemed to be a hole in the marketplace in terms of this content offering."
Mrs Robinson will offer advertisers a variety of traditional display ad units, as well as sponsored content and advertorial opportunities.
In terms of sponsored content, advertisers can select short-form content between 50 and 100 words to be published as part of a daily or weekly series, or longer pieces of up to 500 words.
Richler says that ideal fits for Mrs Robinson would be CPG, food and entertainment brands, as well as high-end travel and financial brands.