MediJean places paid debates
The Vancouver-based company is working with /Newsrooms and has partnered with Quebecor media to host a month-long discussion around medical marijuana.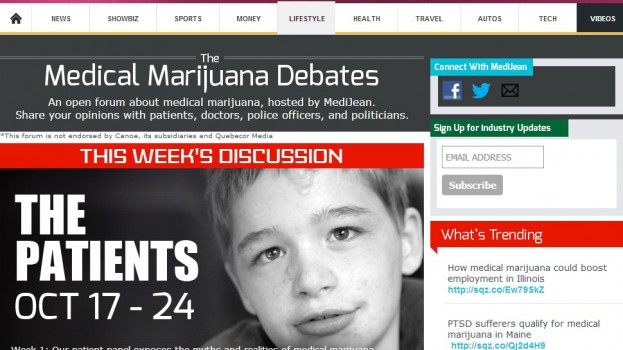 With the laws around medical marijuana shifting in Canada, Vancouver-based MediJean is looking to lead the debate around the issue with its first major national campaign.
MediJean is working with Toronto-based /Newsrooms, a content marketing and social media network to create and source content around the topic. The medical marijuana company, which does research, provides patient care, works with healthcare practitioners and distributes medical marijuana, is targeting adults of all ages, and will host the debates, which will include input from patients, doctors and lawmakers, online through a partnership with Quebecor media.
The paid partnership includes a takeover of the lifestyle page on Canoe.ca, a presence on the websites for the Toronto Sun, the Ottawa Sun and the Winnipeg Sun, among other and pushed through MediJean's social media channels. The debates will also include an open forum, allowing all Canadians to weigh in on the issue, and the content will be updated daily.
Chris Hogg, co-founder, /Newsrooms, tells MiC given the ongoing debate around the issue of medical marijuana and the fact that the industry is still emerging, it made the most sense for MediJean to place itself in the centre of the conversation to help gather marketing intelligence that doesn't currently exist and better gauge the Canadian marketplace.
Anton Mattadeen, chief strategy officer, MediJean, adds  the debates made more sense than a traditional media buy because of the limitations of Health Canada regulations, MediJean is limited in how it can advertise to consumers.
He says that the organic nature of the debates will allow MediJean to measure their effectiveness in real-time and adjust its approach accordingly, adding that depending on the performance, MediaJean may look to expand the debates beyond its partnership with Quebecor.
The debates will be running until Nov. 17.