Smithsonian Channel launches fall programming
The Blue Ant Media specialty service will debut on Nov. 13 with a programming preview online on Oct. 30 (aerial doc series Canada Over the Edge pictured).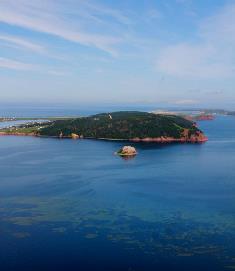 Blue Ant Media is launching its new Smithsonian Channel specialty service on Nov. 13.
Smithsonian Channel is a rebrand of Blue Ant's eqhd channel, and marks the channel's first expansion into an international market.
The commercial-free network will feature programming genres including air and space, science and nature, pop culture and history, inspired by the cultural institution.
Canadian programming on the channel's fall schedule includes Canada 1812: Forged in Fire and Canada Over the Edge.
Canada 1812: Forged in Fire is a six-part series, airing Mondays at 6 p.m. starting Nov. 18, featuring personal stories and historic sites related to the War of 1812.
Canada Over the Edge, which airs Wednesdays at 6 p.m. starting Nov. 13, is an aerial doc series exploring topographical and geographical features that define Canada. The series showcases various urban city centres, the remote wilderness of Canadian National Parks and the history of the Atlantic provinces.
Also part of the channel's fall programming, L.A. Frock Stars airs Thursdays at 8 p.m. starting Nov. 14, while two JFK-related specials will have their world broadcast premieres on Nov. 17. Kennedy Suicide Bomber, which premieres at 8 p.m., reveals the untold story of Richard Pavlick, who attempted to kill President-Elect John F. Kennedy a month before he was sworn in as the President of the United States. The Day Kennedy Died, which premieres at 9 p.m., is a minute-by-minute account of Nov. 22, 1963, narrated by Kevin Spacey.
Elsewhere on the schedule, series Terror in the Skies airs Sundays at 9 p.m. starting Nov. 24, and Quest, which airs Wednesdays at 9 p.m. starting Nov. 20, gives viewers a deeper look at contemporary science and research, from questions about renewable energies to cures for diseases. And TV special Death Beach, about the bizarrely aggressive behaviour of sharks at South Africa's Second Beach, airs Nov. 29 at 10 p.m., while A Shot to Save the World, about how Dr. Jonas Salk and his staff conquered polio, airs Dec. 29 at 10 p.m.
While the Smithsonian Channel is commercial-free, Anna Carbone, VP of TV sales at Blue Ant Media, says the channel will offer sponsorship and exclusive branded content opportunities for brands. Themed content – history, culture, pop culture, nature, air and space – sponsorship opportunities include branding in channel promotion, billboards, programming overlays, themed interstitials, channel and website ads, she says.
To build buzz for the programming launch, the channel will preview The Incredible Bionic Man online at SmithsonianChannel.ca starting Oct. 30, ahead of the special airing on TV on Nov. 13 at 10 p.m.
On launch, the channel will also offer a two-month national free preview to viewers.
Smithsonian Channel is a partnership between Toronto-based Blue Ant Media and Smithsonian Networks, which is a joint venture between Showtime Networks and the Smithsonian Institution.
From Playback Daily