Future Shop promotes its gadgets
The company has launched a new multi-platform holiday campaign, which includes a digital list to determine how well-behaved consumers have been on social media this year.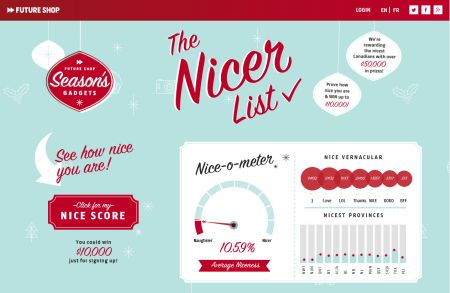 Future Shop has launched a new multi-platform campaign promoting its products around the tagline "Season's Gadgets."
The campaign, with media from Media Experts, creative from John St. and Quebec adaptation by Brad, features lower third TV ads airing during hockey games on CBC with copy like "entertain the kids all the way to grandma's", a radio buy around the upcoming sales on Black Friday and Cyber Monday that kicks off later this week and digital OOH ads in Montreal, Toronto and Vancouver that allow passersby to interact with the screens, collecting falling items in a virtual shopping cart. Players can then compete against others who play the outdoor game by entering their top scores for a chance to win prizes online.
"The target is fairly mass, but the demographic does tend to skew slightly male for Future Shop," James Pelletier, director, brand marketing for Best Buy and Future Shop at Best Buy Canada, tells MiC. "People who like tech and want to see the newest, coolest things."
In addition to the other campaign pieces, the promotion also includes the digitally-focused "Nicer List." When consumers go to Futureshop.ca/NicerList and log in with their Facebook or Twitter information, the app crawls the sites looking for all the "nice" things the person has said lately. People are encouraged to increase their score by tweeting with the hashtag #nicerlist for the chance to win a grand prize of $10,000 or other secondary prizes, like Future Shop gift cards.