Sens install 700 HD monitors at Canadian Tire Centre
The Cisco-powered system, which includes a 700 square-foot HD LED screen, offers sponsors flexible ad opportunities.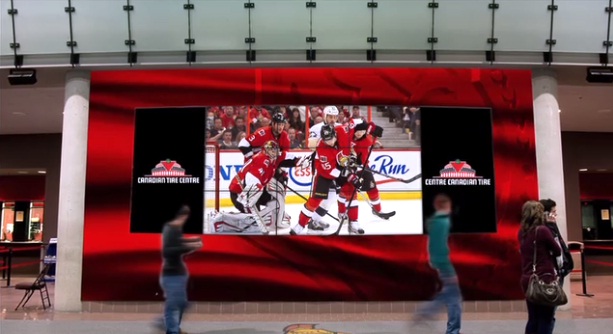 The Ottawa Senators are installing 700 HD monitors throughout the Canadian Tire Centre (CTC) as part of a new offering to fans and advertisers called Canadian Tire Centre Vision. The first of its kind in a Canadian NHL venue, the system is powered by Cisco's StadiumVision, the same technology used in Yankee Stadium in New York and Cowboys Stadium in Dallas.
Cyril Leeder, president, Ottawa Senators, tells MiC the monitors, including a 700 square-foot HD LED screen, will display live-event video, promotions, contests and social media engagement to the over 1.1 million ticketed fans at CTC and 2.1 million Sensplex facilities visitors that will be reached on an annual basis.
Leeder says that the new system gives sponsors and partners the ability to target different demographics with customizable digital advertising depending on the event. "We'll be able now to segment our sponsorship activities between hockey, concerts and other events," adds Leeder. "The best example of that might be that Scotiabank is the bank of the Senators, but it will allow us now to use the digital signage to promote a different bank at concerts and other events."
He adds the organization is working with Cisco to bring forward some of the content they've developed, as well as developing their own content with an in-house production team.
The investment keeps the team, venue and their offerings current in an evolving market, says Leeder. "I think it's extremely important to keep our offerings fresh and cutting edge," he adds. "We're hearing more and more that hockey is in demand from our sponsors' perspective, but at the same time they're asking for more activations, and more ways to reach their customers on a timely and efficient basis."