Elle Canada to host interactive cover shoot
The TC Media magazine is engaging its online audience through the cover design process for its upcoming June issue with actress Emma Roberts.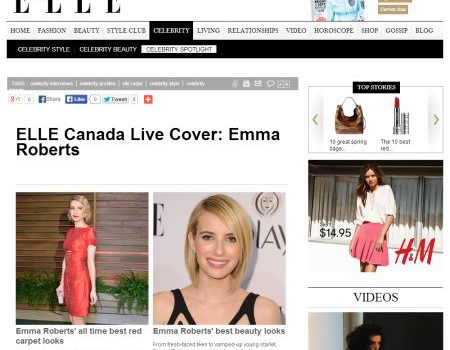 TC Media's Elle Canada is interacting with fans in a new way this month, asking readers to get virtually involved for an upcoming cover shoot with actress Emma Roberts.
A team from the magazine will be posting content from today's cover shoot with the actress live from Los Angeles from around noon to 7 p.m. EST to Elle Canada's website, as well as on Twitter, Facebook, Pinterest and Instagram. In addition to giving a behind-the-scenes look at the process, it is asking readers to weigh-in on things like the outfits and accessories Roberts will be wearing.
Roberts will also be answering reader questions live from the shoot through the hashtag #ElleCanadaEmma. On March 31, readers can go to Ellecanada.com to see the various cover options from the shoot and vote for their favourite subscriber cover. Additional videos and images from the shoot will be posted throughout the month of April, with the June issue coming out on May 6. To round out the event, Roberts will be hosting a live Twitter chat May 8 on the @ElleCanada account.
Noreen Flanagan, editor-in-chief, Elle Canada, tells MiC that the idea for the cover project came from similar activations done by sister publication Elle UK, which has interacted with fans during shoots with Kristen Stewart and David Beckham.
"I had always been intrigued by them doing this, because it was unusual and forward-thinking for a magazine to announce their cover subject in advance," she says. "In the back of my mind I wanted to do something similar, but we needed to wait for the right celebrity who had both the social media following and the interest in doing it, not every celebrity is open to it because you never quite know what will happen."
Flanagan says Roberts was the right fit because of the large social media presence she has (2.65 million Twitter followers and 1.2 million on Instagram), adding that she would like to do a similar activation in the future once data has been gathered in order to entice advertisers to the project.
Elle Canada had 281,000 unique visitors to its website in February and 1.4 million page views, according to Google Analytics provided by TC Media.