Everest jump to simulcast live on Discovery
The latest world-wide megastunt event for the specialty channel will see mountain climber Joby Ogwyn glide from the summit to base camp in a wingsuit.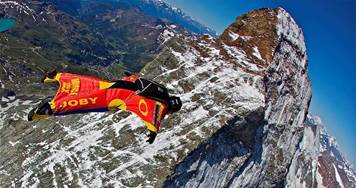 This May, Discovery Canada will simulcast a live two-hour event that will see seasoned mountain climber Joby Ogwyn leap from the summit of Mount Everest and glide to the base camp 3,048 vertical metres below, as dozens of cameras on the mountain and mounted to his wingsuit capture the stunt. Weather permitting, Everest Jump Live will bow Sunday May 11 at 8 p.m. on the Bell Media specialty channel, as well as other Discovery channels around the world, with live cameras at Everest Base Camp that can be viewed 24/7 during the lead-up at EverestJumpLive.com.
Ken MacDonald, VP programming, Discovery Canada, tells MiC that while Discovery's target audience skews about 60% male, this type of special event crosses the usual demo boundaries for the network, and targets everyone.
The stunt simulcast comes after Discovery's coverage of Nik Wallenda's famous tightrope walk across the Grand Canyon in June 2013. That live simulcast of Skywire Live with Nik Wallenda drew 729,000 viewers AMA with a total reach of 2.4 million, making it the highest-rated special in Discovery Canada's history at the time (though later eclipsed by Megalodon during Shark Week), according to BBM stats cited by the network. That night, Discovery was the top network in Canada for adults 18 to 49 and adults 25 to 54, and during the second hour of that special, it was the top network for total viewers in Canada, according to Bell Media's statistics.
"We see Everest as being quite similar in appeal for viewers," says MacDonald. "There's something about live events that attracts audience, especially on Discovery. Our viewers like to live vicariously through all these people that do these amazing things."
MacDonald says the broadcast will be promoted widely across the Bell Media network, including background pieces to run on Daily Planet leading up to the jump, and other ancillary programming to be announced soon.