CHCH launches viewer loyalty program
Called Ch-Ching!, the program will allow viewers to rack up points in exchange for prizes, and help the channel kick off its 60th anniversary efforts.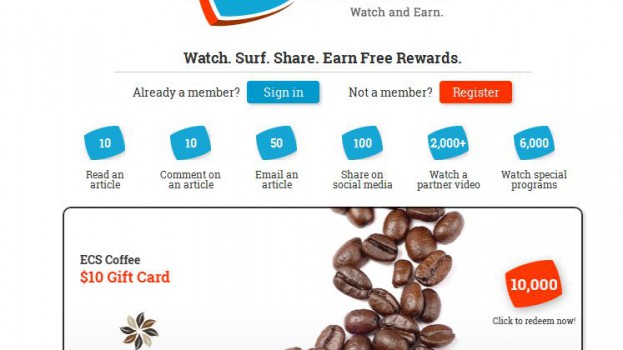 Channel Zero's CHCH is giving viewers the chance to rack up points and exchange them for prizes from the channel and sponsors through its new Ch-Ching! loyalty rewards program.
The program was developed with SlimCut Media and is based on a simple premise of rewarding viewers who are watching CHCH programming and interacting with the content online to earn points towards prizes, Chris Fuoco, VP sales and marketing, Channel Zero, tells MiC. For instance, reading an article on CHCH's site gives the reader 10 points, commenting on it another 10, emailing an article gives 50 points and sharing that article on social media gives 100 points. Other actions like watching a partner video from sponsors gives 2,000 points or participating in a special broadcast program by entering a code shown on TV online earns them 6,000 points.
Viewers can also rack up 10 points every time they fill out a question on their registration form, which gives Fuoco and his team better data on the viewers interacting with CHCH's content.
Points can be cashed in for sponsored prizes like passes to Burlington, ON's Sounds Music Festival, calendars or gift cards. Sponsors who have signed on include Parkway Nissan, which is offering CH-CHing! members a chance to win the all-new 2015 Nissan Micra in exchange for 200 points starting June 6. Other partners include Holiday Valley in Ellicottville, New York, Rockway Vineyards, Len's Mill Stores, ECS Coffee, The Love Shop, Barangas on the Beach, Hamilton Hyundai, Wild Water Kingdom and Romano's Ristorante.
"We wanted to get a lot more engagement with viewers on TV and online," he says. "The loyalty program allows us to poll and ask people about what they're doing and start to get data on their habits and plans."
The Ch-ching! program also serves as a kickoff to the channel's 60th anniversary, which officially launches on Friday June 6 with a 60 Years Strong special at 8 p.m. looking back at the events that have shaped the channel and the area it covers. Viewers can also get 6,000 points for watching the broadcast of the special and entering the code word shown onto the reward program's website.
Fuoco says events around the anniversary will continue all year with programming highlights including the return of the iconic Tiny Talent Time on Saturday nights this fall. He adds that CHCH's full slate of programming will be rolled out in the next couple weeks.