Ford Lincoln buys the top: Media Monitors
The car co bought the most ad airtime in Toronto for the week of May 26 to June 1.
Ford Lincoln again bought the most radio ad time in Toronto according to the latest Media Monitors report for the week of May 26 to June 1. The car co was followed by Mazda, which jumped from #11 to #2. Swiss Chalet stayed at #3, Nissan moved from #10 to #4 and Rogers Wireless entered the list at #5 to round out the top of the list in the city.
Mazda bought the top spot in Montreal, moving up from #11 last week. The second and third entries were both new to the list this week, with Rogers Wireless joining at #2 and Brault & Martineau jumping onto the list at #3. Benjamin Moore made a big jump from #70 to #4 and McDonald's held steady at #5 to finish the leaders in Montreal for the week.
Toronto:
By brand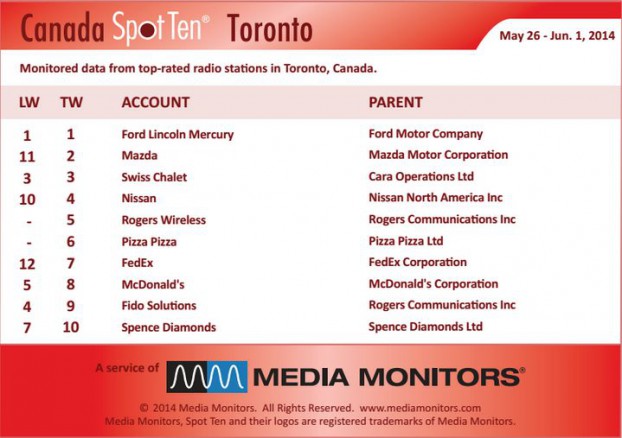 Montreal:
By brand