Definition of a Canadian TV viewer is changing: Infographic
One in six Canadians now watches all of their television programs on a digital device.
One in every six Canadians has abandoned their television set and now watches all of their programs on a digital device, just one statistic that advertisers need to be mindful of if they want their campaigns to keep reaching their intended audience.
Video advertising platform Videology has compiled these statistics to educate the industry about how television audiences are migrating to different platforms for content that has traditionally only been available on one device.
"This means that audiences are increasingly fragmented," Ryan Ladisa, Canadian vice president of sales at Videology, tells MiC.
Because of that fragmentation, having a cross-platform vision is key, especially if advertisers want to hold on to their access to Canadians that are moving away from linear television entirely.
"I think for future trends, it's going to be consumers having more choice of how and when they consume their contents across all types of screens," says Sam Gottfried, Videology sales strategy manager for Canada. "More and more, advertisers are getting on board and taking digital video seriously."
Even though television still attracts the majority of viewers in Canada, recognizing the impact of online video can complement a campaign, if not open up to a new segment of a target audience entirely. The team at Videology recommends that advertisers design campaigns that stretch across all of the screens viewers utilize and to keep in mind what one platform offers over another, but also to measure results as a whole, instead of in "silos."
"Just because an audience in general has moved across devices and you can define that, doesn't mean that audience is going to perfectly match that on a campaign by campaign basis," Ladisa says. "You have to marry analytics to so so you can clearly define the favourability of your creative and whether or not it's working in that environment."
Most of these statistics are reflective of young Canadians, who are expected to be the early adopters when it comes to digital trends. But Ladisa says that they should still be taken seriously for those looking to reach older demographics.
"These [younger] demographics are really the leaders," he said. "We're definitely seeing the same kind of cross-device migration across all demographics, even if it's not yet to the same degree."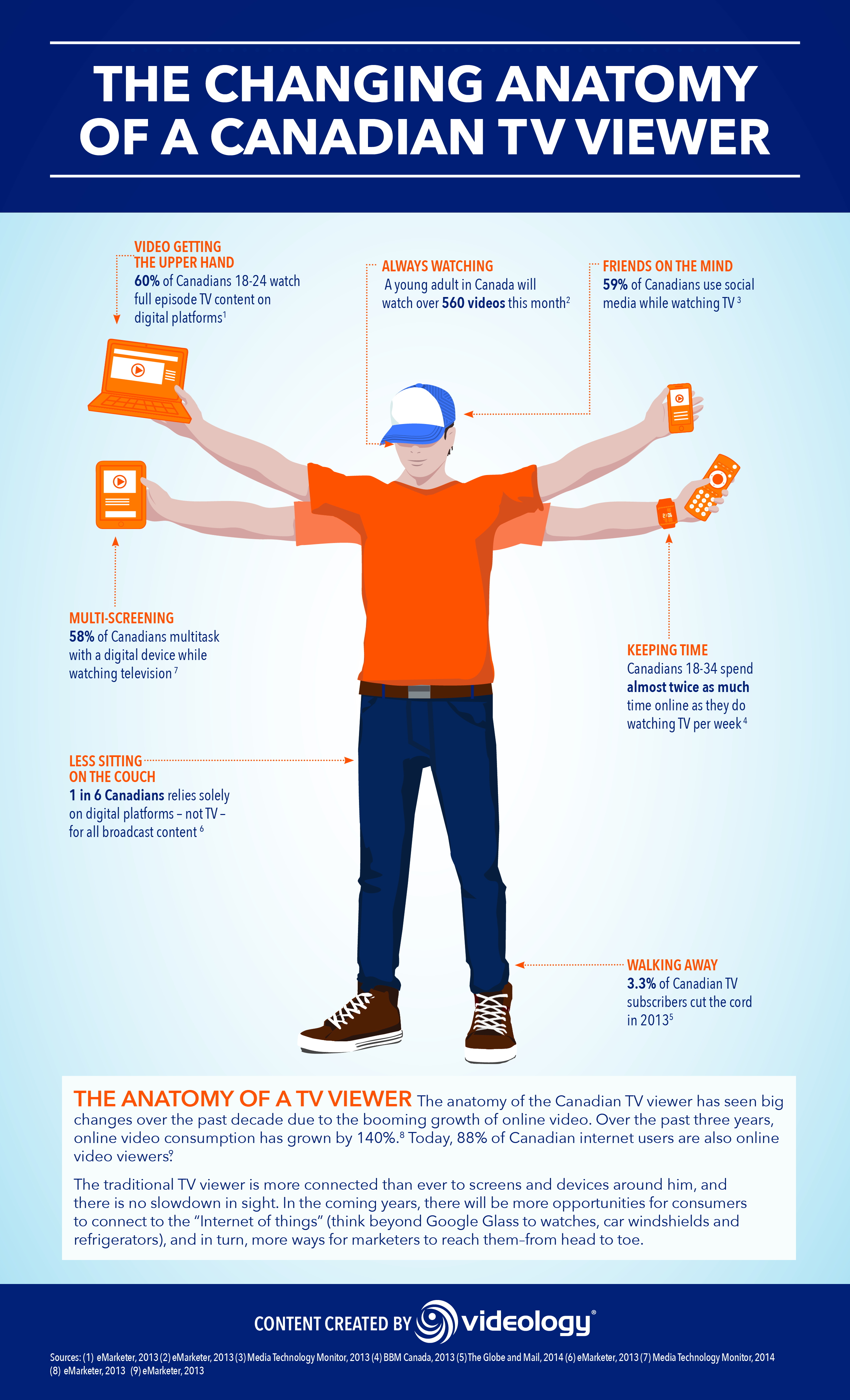 Infographic courtesy Videology