Why Bell Media wants The Loop to be the Buzzfeed of Canada
The redesigned site aims to target a younger, more share-happy audience with original, short-form video content with a Canadian spin.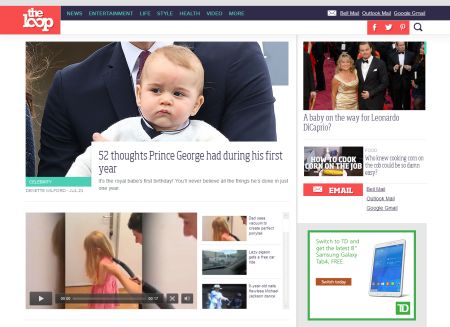 Bell Media's lifestyle site The Loop has announced a redesign, shaking off the last of its portal roots in its former iteration as Sympatico to become a younger-skewing site aimed at the social sharing generation.
The company turned Sympatico into The Loop in 2012, aiming to up its focus on lifestyle and video, targeting a demo of women aged 25 to 54. That focus remains the same with the redesign, but Nancy McConnell, VP of digital sales at Bell Media, tells MiC it's now done with a distinct voice that was missing in the transition period between the two URLs.
Mark Swierszcz, director of specialty digital content at Bell Media, says that his team has redesigned the site with a sweet spot of 33-year-old women in mind, doing that through content and a stylebook that is a bit more fun and visually oriented than before.
His team has also reworked the site in a Buzzfeed-like fashion so content is focused on shareability, not SEO, because of how consumers now find things online through recommendations on social media rather than a search.
"It used to be that you would search for something and now one of your online friends has probably already answered the question before you know you want to ask it," he says.
The site has a staff of nine who are contributing to it full-time, with others that jump in with weekly posts around The Loop's core pillars of lifestyle, beauty, health and travel, says Swierszcz.
The Loop aims to post content with a Canadian spin that Swierszcz says is missing from other lifestyle sites in market. It also plans to increase its original video content, using videographers from Bell Media to post between 10 and 15 clips a week, each below three minutes in length, with text overlays in case people are watching at work with the sound off. Videos keep the fun tone of written posts, with topics like "how to cook corn on the job." In addition, the site will be posting videos from content creators like Rumble, FitSugar TV and Flash.
"We have a belief that this kind of video has a future at the company, things that don't look like they were shot on a big TV shoot with lights," he says. "In our new world we get nervous when the segment is over three minutes."
Short clips like these are also more enticing to advertisers, Swierszcz says. McConnell points to a relaunched DIY video partnership with Value Village, which is part of a larger campaign planned through Bell Media Mix.
Swierszcz says Bell Media will be using The Loop as a testing ground for digital ideas that could be used on other properties, like CTV News.
While the company won't share specific site statistics, Swierszcz says that there has been a 27% boost in social shares and 30% in video engagement on the site since its soft relaunch last month compared to before the changes.