Cineplex plays with patrons
Robert Brown, VP of Cineplex Media on its new interactive wall and the paparazzi-inspired launch execution appearing in three GTA theatres.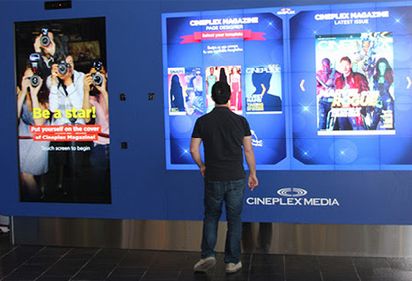 Cineplex Media has introduced a new advertising option to its theatres with an interactive wall.
The wall has multiple interactive screens and it has launched in three GTA area theatres, with screens in Colossus Vaughan and the Queensway and Scotiabank theatres in Toronto.
Robert Brown, VP at Cineplex Media, tells MiC that the screens are currently running a non-branded launch execution to display the capabilities of the wall. A video of paparazzi photographers waiting around plays until someone passes by the screen. Then gesture-based cameras kick in and the paparazzi start snapping shots of the theatre patrons. A message pops up asking the visitor if they want to take a photo for the cover or style pages of Cineplex magazine. After that photo has been taken prompts are given to share the photos through text, email or across social media.
The screens are sold on a weekly rate card rate of $5,000 per screen, with additional costs for production depending on the level of interactivity of the activation, says Brown. Brands can also bring ambassadors to the wall and do things like product sampling around it.
Data on how many people passed by the wall and how they used it will be provided to clients, adds Brown. Additional locations for the interactive wall will roll out in the GTA, Calgary, Edmonton and Vancouver in 2014. So far Brown says there is an automotive brand, an audio product and a mobile company signed on to use the walls before the end of the year.