CRTC grills CBC on proposed new fees
The CBC requested new revenue tools, including carriage fees for conventional and a new Local News Fund for content at the Let's Talk hearing.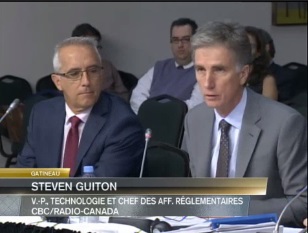 Spinning the week's most-played record, the CBC on Friday told the CRTC that the conventional broadcasting system is broken and needs to be fixed, and proposed new system-generated revenue tools to help it pay for the creation of content.
Underlining its role as a provider of local content and its struggles to pay for it, the CBC said it would like to see conventional stations, such as its main station and others like CTV, receive a fee for carriage from BDUs, in the same way specialty channels currently do. The pubcaster did not specify a rate, but rather said it would like to see market forces dictate the cost.
Additionally, the pubcaster proposed a new so-called Local News Fund, which would see a 1% share of BDU revenues go toward the creation of a fund to support local news. The levy would be on top of the current 5% dedicated to dramatic programming. Any broadcaster that is required to provide local programming as a condition of licence would be eligible to draw from the fund.
In reaction to the CBC proposal, a skeptical Jean-Pierre Blais asked CBC VP technology and chief regulatory officer Steven Guiton if he was concerned BDUs would simply pass new costs onto subscribers.
Guiton said that proceeding with skinny basic option two (price-capped at $30) would solve the affordability issue.
Blais said in response: "So that's how you address this issue: you're saying to BDUs, 'you have to eat this'?"
"They're not going to recover it in skinny basic," Guiton fired back.
It was an issue that came up repeatedly throughout the hearing, with Blais questioning whether taxpayers would see it as double-dipping (given the CBC's federal funding) and whether it was necessary given the CBC's mandate to create content that reflects Canadians.
Guiton repeatedly emphasized that under the current model, with conventional under revenue stress, that if new ways of funding it are not found, it won't exist at all, or it will at a much lower quality.
The CBC also proposed the elimination of over-the-air (OTA) signals, a service the CBC argued negatively impacts its revenue model for its conventional service. As Blais pointed out, comments in the CRTC's public forum indicated that consumers see the CBC's OTA signal as "almost a constitutional right" and to remove that would cause significant public outcry.
Emphatically, Guiton replied that despite its government funding, the costs of operating the signal exceed its revenue and therefore is not free and should not be seen as such: "When I take VIA, I don't expect a seat for free even though they are funded the same as us," he said.
Guiton said that the CBC's research indicates that for those who use over-the-air television signals, it is "not their principal approach to TV" and that 80% of them have broadband access. Skinny basic, Guiton, said, addresses the affordability issue; the CRTC, however, pointed out that $20-$30 versus free is still a significant increase.
Consumer costs versus conventional funding was most emphatically addressed by CRTC VP broadcasting Tom Pentefountas, who criticized the request for additional revenue tools repeatedly: "Is the capacity of the consumer unlimited?" he asked, adding rhetorically "No. I think the answer is no."
To which Guiton replied: "Without a funding model, local TV isn't going to be what we expect it to be."
From Playback Daily