Digital magazine readership up more than 50%: PMB
Desktop is the most-used platform for digital reading, but smartphones and tablets saw big growth over last year.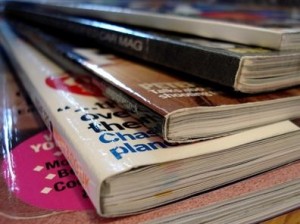 Digital magazine readership has grown 50% in the past 12 months, according to figures from The Print Measurement Bureau's Fall report.
The bureau has been tracking digital readership since 2013. Readership in Fall 2014 is at 2.9 million readers compared to 1.9 million during the same period last year, a year-over-year increase of 57%.
Desktop is still the most popular method for accessing digital magazine content, but tablet and smartphone are the platforms with the highest growth over last year, jumping by 115% and 162% respectively.
The vast majority of respondents (80%) reported reading digital in addition to print magazines, with only 20% saying they exclusively read digital content.
As digital magazines require digital devices on which to view them, it's not surprising that the report also noted, in comparing print and digital magazine readers, that those who read digital magazines were more likely to live in urban areas, have higher education and be professionals. Digital magazine reading was 55% higher in Toronto than the rest of Canada.
Website readership provides incremental reach of 25% to print numbers according to the study. That's up from 21% from last year's numbers.
Meanwhile, average print readership for each of the 81 PMB-measured titles is stable at one million readers per issue. The time readers spent with those titles rose slightly this year over last, with readers looking at issues for an average of 45 minutes per copy versus last year's 41 minutes.
Top five English titles (by readership):
Reader's Digest: 4.5 million
Canadian Living: 3.4 million
Canadian Geographic: 3.3 million
Kraft what's cooking: 3.3 million
Cineplex magazine: 3 million
Top five English titles (by readers per copy):
The Hockey News: 22
Canada's History: 21.7
Outdoor Canada: 20.6
Canadian Geographic: 20.5
People: 20.5
Top five French titles (by readership):
Kraft qu'est-ce qui mijote: 1.1 million
Touring (French and English): 1 million
Coup de pouce: 988,000
L'actualité: 890,000
Ricardo: 779,000
Top five French titles (by readers per copy):
Dernière Heure: 13.6
Summum: 11.7
Yoopa: 11.2
Le Lundi: 11.1
Le Semaine: 9.7