Spotted! Ontario Toyota Dealers' giant holiday calendar
The association's hard-to-miss installation is the bow on top of its gift-giving campaign.
The Ontario Toyota Dealers Association has taken the "gift-vertising" trend to new heights, stationing a 17-metre high "holiday calendar" made out of shipping containers in a downtown Toronto parking lot.
Part installation, part OOH property, the 17-metre high, 12-metre wide and six-metre deep calendar sits at the foot of Liberty Village, where it will be hard to miss for the approximately 100,000 passersby, which includes Go Train passengers and motorists on the Gardiner Expressway.
The installation is the centrepiece for the association's goodwill-generating "Wishmaker Holiday Calendar" campaign that is giving 24 people a gift found inside the installation. Starting on Nov. 15,  bloggers began a call-out to their audiences, asking them to write, send a video or photo to nominate someone for a gift. For instance one husband nominated his wife, Lhara Eben, who gives free dance lessons to people living with Parkinson's disease.
Those selected for a prize are then brought to the installation and are surprised with a gift from one of the shipping containers. In the case of Eben, there was a supply of free dancing shoes for her students inside the box. The experience is filmed and a short video produced the following day.
Kevin Pfuhl, partner at Rain43, which lead the strategy and creative for the campaign, says the idea behind the installation was to both have a symbol for the promotion but also a spectacular OOH property.
"The installation build is intentionally out-of-home, social and event," he says. "A combination of three powerful media points of consumer engagement."
To execute the campaign, agency SMAK negotiated with the parking lot owner to place the calendar in its location, Pfuhl says.
"We wanted to get the outdoor exposure to create a central place to ground the symbol of the promotion," he says. "We made the decision that a high-visibility, high-traffic place with easy access was ideal."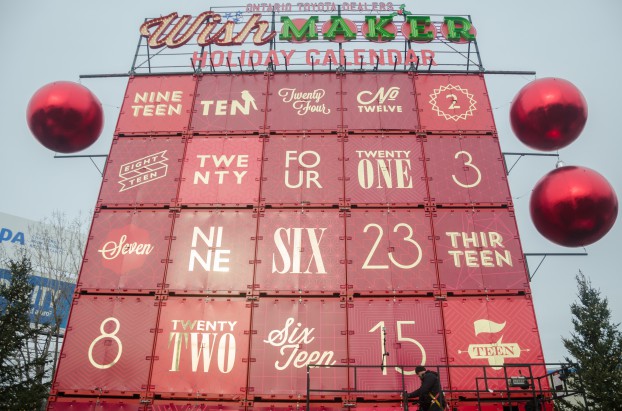 The installation build was done by SMAK, with media by Wills & Co and PR from Fleishman-Hillard
The campaign is being promoted via two-phases of online banners – one set to encourage people to enter the program and another to share the stories. The brand also used blogger outreach and leveraged its social networks.
Content produced from the campaign is hosted on a microsite, where visitors can click on an animated version of the holiday calendar to view the approximately two minute-long videos about each surprise.