The Shopping Channel adds a bit more style
Jeanne Beker has signed on as style editor at the channel, and is launching a new show in March.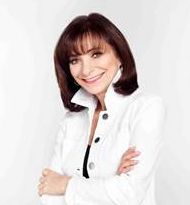 Canadian fashion icon Jeanne Beker has signed a deal with Rogers Media's The Shopping Channel to become its official style editor.
As part of the new role, Beker will be hosting a show on the channel, called Style Matters with Jeanne Beker. The show, which bows Thursday March 12 at 8 p.m. with a two-hour premiere, will feature Beker curating pieces from Shopping Channel vendors around particular themes or trends, like the '70s.
Beker was host of Fashion Television for over 27 years. The show's production was suspended by Bell Media in 2012.
Steven Goldsmith, president of The Shopping Channel, says Beker's show is a departure from other programming on the channel, because she will be curating a set of items to be sold throughout the show rather than focusing on one product line. The show targets The Shopping Channel's traditional core audience of women aged 30 to 60.
The show, which is launching in March to time with Canada's eventual thaw from winter, will be promoted by the channel starting this Sunday.
Brands can get involved with The Shopping Channel by becoming a vendor.