Kik, Massively chat up Insidious: Chapter 3 release
The Canadian companies kick off a new partnership with a chat-based promotional strategy for the horror film.
Waterloo, ON-based messaging app company Kik has teamed up with content platform Massively to create an interactive mobile messaging game to promote the trailer for Focus Features' Insidious: Chapter 3.
Using Kik's 200-million-user messenger app as the delivery platform, Toronto-based Massively have developed a text-messaging story game that enables users to chat directly with the movie's fictional heroine, Quinn Brenner, as well inside information about the horror prequel. The new product runs on Kik's "promoted chats" system, which allows brands or entities to message one-on-one with individual users.
The app is set up so that those who interact with Insidious: Chapter 3 on Kik are then prompted to chat with Quinn.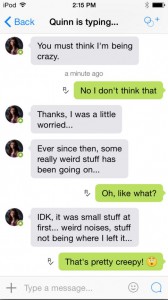 While chatting with the character, whose pre-scripted questions and answers are based on Natural Language Processing technology, a non-linear story unfolds where plot details and characters are revealed over the course of a couple of days.
The Focus Features-produced movie carries a PG-13 rating, which overlaps neatly with Kik's 13-to-25 demographic. The company says that 40% of North American millennials are registered users of its app, a claim that Massively president Russell Ward says attracted his company to the co-venture.
"The first objective of marketers is finding the audience in an increasingly fragmented media landscape," says Ward. "And messaging and chat apps are becoming a part of that landscape. They're overtaking social [media]. The audience is living on these chat apps, less so than on the social platforms, so from a reach standpoint it starts there."
Paul Gray, Kik's product strategist, says that brands often talk about having conversations with their audience, but few actually do. He points out that social media sites like Twitter require users to scroll back through numerous posts, making it likely they will miss something.
As well, market saturation has made movies a tough sell, he says, creating the need to engage large audiences in more individual ways: "It's becoming more and more challenging for movies to promote themselves. You can't just put out trailers and tweet "hey, check out our trailer" and hope people watch it, because the signal to noise ratio is too high."
The film is being released nationwide on June 5, 2015.
Featured image courtesy of Shutterstock