What's new in OOH: Astral adds two
Astral has signed deals with a transport service in Quebec and an airport in Halifax, and Carat is spooking Montreal residents with a Disney Installation.
Don't miss an account move, signage change, or contact update. Get the latest in the world of faces with MiC's roundup.
Astral OOH climbs aboard the RTC: Quebec City bus service Réseau de transport de la Capitale has agreed to a ten-year deal that will see Astral OOH manage its bus and transit shelter advertising.
The deal, which begins on July 1 2015, will bring some 147,000 monthly RTC commuters into contact with 70 digital touch screens.
The new deal also connects riders with Astral's BusFlash system, which uses Near Field Technology and QR code scanning to give commuters news, sports and weather to their smartphones. Information on the service is sourced provided by RDS, Rouge FM, NRJ, Sympatico and others. The videos are five minutes long and updated twice daily.
Disney Haunts a Montreal Bus Stop: Disney Parks and Resorts has turned a downtown Montreal bus shelter into a haunted hotel reception, based on its "Twilight Zone Tower of Terror Hotel" at Walt Disney World.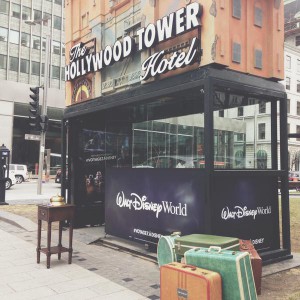 The OOH installation, located at the Peel Street and René-Lévesque Boulevard intersection in downtown Montreal, features a a hotel reception, makeshift elevator, two bellhops, some special effects and other surprises for passersby.
The four week campaign was collaborated on with Carat, who lent strategic instruction on the media buying side of things, while Montreal-based creative agency Brad provided executional and creative ideas. Montreal media company Quebecor meanwhile built the Terror Tower installation.
Astral OOH crash lands at Halifax Stanfield Airport: Astral OOH has extended its reach to include the Atlantic provinces, signing a ten year partnership with Halifax Stanfield International Airport.
The indoor advertising deal, which began May 1, will also include Astral's product AeroTv, made in collaboration with CTV Atlantic. AeroTv features exclusive news, sport, fashion, weather, and movie content that will be broadcasted on the airport's screens.
As well as an increase in the number of advertising faces within the airport, Astral will also introduce new digital products and creative programs to the Halifax airport's terminal.
Halifax Stanfield International Airport serves more than 3.6 million flyers each year and is thought to be worth an annual 1.3 billion dollars to Nova Scotia's provincial economy.