Brands board Bell Local series set in Toronto cafe
Ontario craft brewer Beau's is one of three integrated sponsors in Snakes and Lattes: The Show.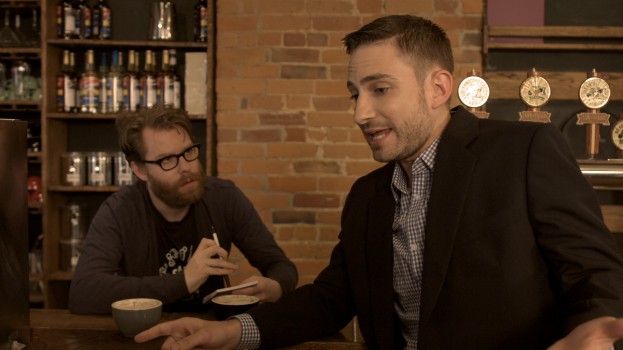 Production is currently underway on Snakes and Lattes: The Show for Bell Local, a scripted comedy series that depends on sponsorships – including the title sponsorship of a Toronto board game cafe – to keep cameras rolling.
The operating budget for Snakes and Lattes: The Show "relies 100% on sponsorship funds," Drew Dafoe, founder of Really Awesome Day (R.A.D.) Productions and director on the series, told Playback Daily. The 6 x 10 minute series is filmed in the actual Snakes and Lattes board game cafe in Toronto, which is the title sponsor on the series, Dafoe said. The show is set in a fictionalized version of the Snakes and Lattes cafe, but the premise of the show was inspired by the real-life board-gamer community, Dafoe said.
"When writing the show I was inspired by people, staff and fans of Snakes & Lattes and basically thought of the most ridiculous story lines and characters that would make it interesting to a wider demographic. I have always enjoyed watching Community, Psyche and Scrubs and their filming style was what I was aiming for," Dafoe said.
Characters in the series refer to Snakes and Lattes by name frequently, with Beau's All Natural Brewing Company and Green Couch Games also on board as sponsors. Dafoe noted Beau's took a particular interest in the show because many of the company's staff, including its CEO, are interested in board games.
Beau's is the exclusive beer sponsor on the show and is mentioned by the characters and viewed in product placement, and Green Couch Games will receive premiere production placement of their upcoming game Fidelitas. Dafoe said the producers always intended to partner with like-minded companies on the series, but were pleased with the caliber of sponsors they were able to attract.
"We are still open to partner with other corporate sponsors to meet our last amount of funding needs. We're hopeful through greater show exposure we will have companies interested in getting involved," Dafoe said. (He declined to provide details on the budget of the show.)
While sponsorship is not a determining factor in whether or not Bell Local will commission a series, the community channel does encourage producers to seek out partnerships when possible, said Ian Daffern, producer with Bell Local.
"We are providing a license for the producers, but it's a non-exclusive license – obviously, it's not very robust, so we encourage the producers to go out and find their own sponsorships to make really great shows happen," Daffern said.
Snakes and Lattes: The Show is currently set to bow on Bell Local in late September. The series stars Second City comedians Jaime O'Connor and Troy Matthew Martin (pictured left and right, respectively), and features a Toronto-based cast and crew of 15 others. Indie/folk singer Beth Moore and director Scott Emerson Moyle are also featured in the series.