Spotted! Ant-Man promotes to scale
Commuters might be caught tripping over Marvel's street-level promotions across Canada.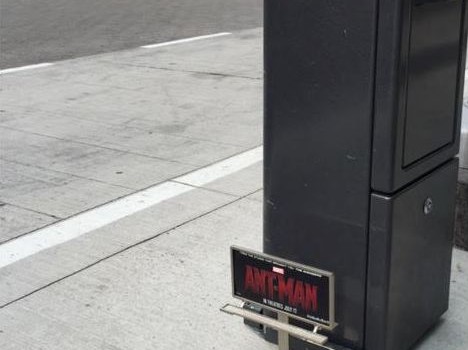 Commuters will have to look down, way down, to see billboards promoting next week's release of Marvel's Ant-Man.
Walt Disney Studios Motion Pictures Canada has brought over an activation that was first seen in Australia to promote the film, placing bug-sized billboards on the streets for eagle-eyed passersby to spot.
Greg Mason, VP of marketing, Walt Disney Studios Motion Pictures Canada, says the mini-billboards are a perfect fit for promoting the new Marvel film, because fans of the company's films enjoy out-of-the-ordinary advertising.
A bonus to the mini-boards? Mason says the budgets for the tiny billboards stretches further than, well, human-sized ones do, allowing the movie company to place the ads in many more mid-sized and small markets across Canada.
In addition to the ant-sized billboards, which fans are encouraged to share online with #AntManMiniBoards, the movie is being promoted with TSAs and billboards in Toronto and Vancouver.
Mason says Disney will be enlisting the help of fans to place the last few billboards in the coming week before the movie's release, but would not disclose full details around the last leg of the social strategy.