Dynamic launches game-changing OOH tech
Dynamic Outdoor is pushing the envelope on measurement standards in the industry with the launch of its latest technology.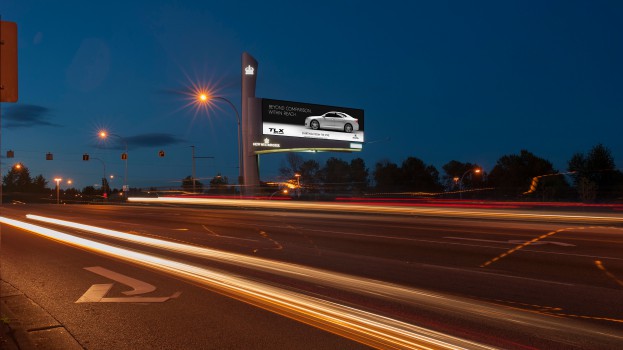 When a marketer looks to buy space on one of the 24 digital faces Dynamic Outdoors owns in Canada's three main urban areas, the focus is almost always on geography. The media-buying question is centred around location: where can one get the most number of eyeballs in the 25-to-54, high-income male category, for instance.
That direction is somewhat outdated, says Brandon Newman, president of Dynamic, which has just launched what it says is a more sophisticated way of understanding audience flow and interaction with outdoor AD faces.
The company's latest technology delivers detailed metrics, analytics and audience profiling for all its digital billboards in Montreal, Toronto and Vancouver.
The new tech – Dynamic Audience Intelligence – sources data from passing mobile apps, beacons, sensors and hot spots and also adds real-time and historical social media data to develop profiles of people coming face-to-face with its billboards. Access to that kind of information will change how buyers and marketers approach placement of media on digital out-of-home boards, says Newman.
The move to add this tech was motivated by a desire to push the way in which the OOH industry works with measurement data, says Newman. "Within the digital space its a little bit of the Wild West in terms of how audiences are measured, what qualifies as certain impressions." The measurement standard was developed by Peter Gallup over four decades ago, says Newman, and it doesn't make use of the vast resources of audience data that are accessible to actually reach target demos.
The technology does not impinge upon privacy-related issues, according to Newman. "The data we ingest is raw bulk anonymous data. The processing of that data is what allows us to determine the type of person to a very specific and intimate level. We do not ingest any personal type information nor do we attach any personal information to the data output, once processed."
In Dynamic Ai the Canadian map is partitioned into 10 million 100-metre by 100-metre tiles that show how traffic flows and how people interact as they enter and exit each demarcated zone. The technology picks up data for devices within a two kilometre distance in front of and behind the board. That device could be located in a car, on a pedestrian or in any other mode of transportation.
Through this data, Dynamic is able to offer advertisers information on audience demographic and lifestyle segments based on actual real-time movement during the course of an entire day and taking into account external factors like weather.
Newman says the new tech will change the way in which advertisers understand their out-of-home audiences. With access to qualitative and quantitative data, marketers may find that they can reach their demo just as effectively in a space they would not have considered, he says.
The company has also updated its website to include integrated mapping that shows data-driven impressions and traffic flow by each digital face. This fall the company will also be able to give advertisers post-campaign analytics reports.
With time, Dynamic's president hopes that his company will be able to offer advertisers packages that let them switch creative between boards depending on how best to reach target demos at different times of the day through an automated buying system.
"This is a huge shift," says Newman. "We can't go straight from zero to 100. We are off and running and at the same time we are taking baby steps."