Beating the drum for a taboo issue
Vibrant Marketing executes an aerial campaign to promote a pill that will let hemorrhoid sufferers sit in peace.
How do you normalise a conversation around a subject that is considered off-limits? You develop a campaign that promotes a hemorrhoid tablet without causing people to screw up their noses in disgust.  
That was the task that pharma company Pendopharm gave Montreal and Toronto-based digital agency Vibrant Marketing. The company's hemorrhoid medication is the first of its kind that allows patients to treat swollen, affected veins with a less intrusive approach: by swallowing a tablet.
The company had a dual objective: to increase awareness of its year-old product and to, subsequently, boost sales.
The team at Vibrant Marketing hired Ryan Robinson, a California-based professional aerialist and challenged him to break the Canadian slacklining record by walking a distance of 1,000 feet, 80 feet above the ground. The tagline for the stunt? "Now you can treat hemorrhoids anywhere."
Robinson didn't end up breaking the record – he fell six times while walking his way along the webbed surface of the 2.5-cm wide line – but Montrealers gathered below to watch as he picked himself up each time before crossing over to the "finish line," a scaffolding tower wrapped in purple Hemovel branding with the hashtag #NoPrivacyNeeded printed in bold letters below.
"We figured that if people knew we were talking about hemorrhoids, they'd be turned off," says Carlos Ponce, director, digital strategy at Vibrant Marketing. "We started the with our tagline – 'Now you can treat hemorrhoids anywhere' and we wanted to take that to an absurd level."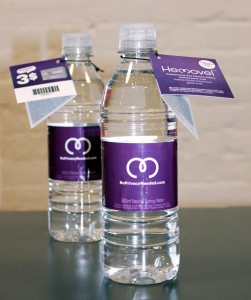 To beat the heat and keep crowds there, onlookers below, were treated to bottles of water, also wrapped in Hemovel branding (see image, right). 
Digital and experiential, as well as the media plan, was developed by Vibrant Marketing, with Zenith Optimedia executing the media buy and Bicom Communications handling PR.
After all, almost 15% of Canadians suffer from hemorrhoids and range in age from 18 to 60-plus, so the Vibrant team took a general approach to targeting, explains Ponce. To reach a wide audience, the campaign also includes paid editorial content across almost three dozen publications across Canada, including the Huffington Post.
While Vibrant had focused on the experiential angle of the campaign for a bit of attention and press, the focus of the campaign was on getting the video out on YouTube and social media.
To that end, the Vibrant team pushed out a 15-second teaser that plays on YouTube pre-roll and as a post on Facebook. The actual video (see below) is one minute and 21 seconds in length and can be seen on the campaign's Facebook page as well as on YouTube. Clicking on the teaser takes viewers to the campaign's microsite (www.noprivacyneeded.com).
The campaign's Facebook page has the following tagline: "Most people won't like our page but they'll like our product."
In addition to social messaging, the campaign also includes a direct mail component in which 200,000 direct mail envelopes will be customised and sent out in the mail in purple envelopes and hung upon home doors with information and coupons inside.