Facebook pacts with Elections Canada
The Canadian election is among the most talked-about events on the social platform.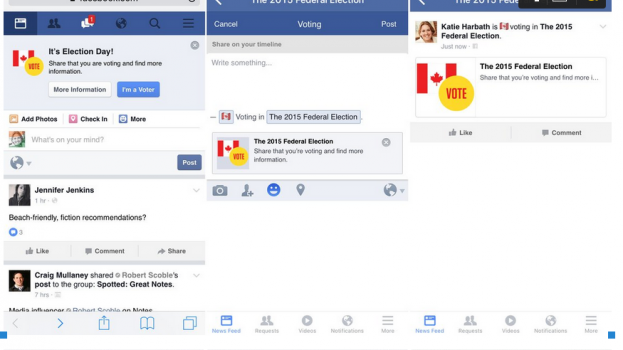 To inspire Canadians on election day, Facebook has pacted with Elections Canada to allow voters to let their social-media friends know that they've done the deed.
Today's partnership is the second phase of a relationship between the two organizations that began on International Day of Democracy (Sept. 15) to arouse public interest in and to promote the importance of voting.
While publicly sharing that they have voted, users do not need to reveal who they voted for. A "I'm a Voter" button is up on the Facebook News Feed of all Canadians aged 18 and over. By clicking on the button, users can highlight their voting status and then share that information with their network. They can also click through to get to the Elections Canada website to get information about how and where to vote.
"Canadians are deeply engaged in this election, and we're pleased to provide a tool for people to share their status as voters with friends and family," says Kevin Chan, head of public policy, Facebook Canada in a statement sent to MiC. "Facebook's mission is to make the world more open and connected, and encouraging civic participation is a key part of that mission."
The social platform has recorded this year's election as one of the most-discussed topics on Facebook, with 4.4 million people having 33 million interactions about the political event since June 1. 
Facebook has also launched the "Why I'm Voting" campaign, which features Canadians like Dr. David Suzuki, Rick Mercer and Heather Moyse (and 47 other influential Canadians) sharing why they care. That campaign ran over the weekend (Oct. 17 to 19) and ends today.