CIOs say IT departments aren't meeting campaign needs
A U.S.-based Robert Half and The Creative Group report points to a disconnect between the demands of digital marketing and the capability of IT departments.
Are IT departments surviving on archaic infrastructure and badly in need of an overhaul? According to a report by Robert Half Technology and the Creative Group, that seems to be the case south of the Canadian border.
While businesses have been growing the scope of their digital marketing programs, about 42% of chief information officers report that the company they work for doesn't have the infrastructure to execute the campaigns they develop.
The report, which was conducted by an independent research group, is based on a survey of 2,400 chief information officers in U.S. businesses, each with more than 100 employees across 24 metro areas. The survey was also completed by 400 advertising and marketing execs. An infographic showing the results is here.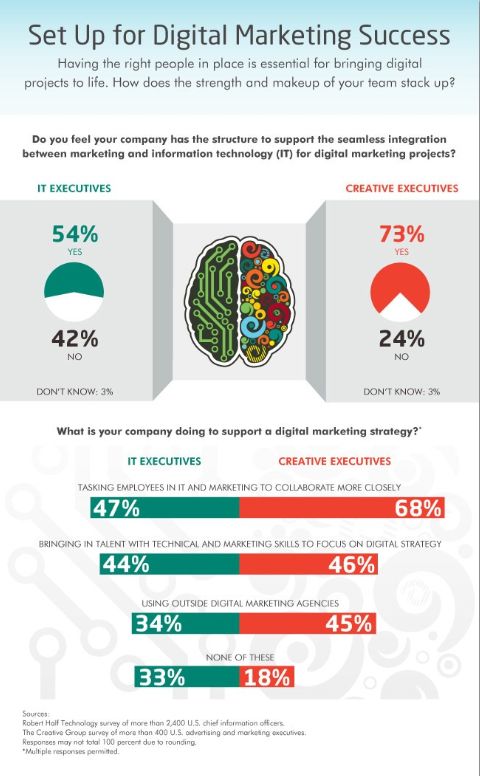 The biggest challenge reported was the inability to integrate marketing with information technology for digital projects. However, that is also the area where IT and creative execs seem to differ the most. Advertising and marketing executives don't feel quite so affected by infrastructure issues with 24% flagging it as an area of concern.
Both IT and creative executives believe collaboration across departments is the best way to support a digital marketing program, with both identifying and rating the right talent as a significant part of a digital marketing strategy.
Deborah Bottineau, senior regional manager at Robert Half Technology and the Creative Group, told MiC, that while  study was conducted in the U.S., similar challenges exist in Canada.
"We don't have research data for Canada but are definitely seeing this in our landscape as well and it's a real issue our clients are facing. The results are consistent with what is happening here in the digital/tech market in Canada."
She also believes teams with diverse backgrounds and skill sets strengthen digital marketing initiatives. "Successful projects are those that draw on the experience of professionals who have the ability to identify new opportunities within the digital sphere, which often requires the blending of marketing and technology departments for their unique insights," she stated in a press release.
About 44% of IT executives and 46% of creative execs said their company is recruiting talent with technical and marketing skills.
Image courtesy of Shutterstock