The TVB rebrands for its next chapter
Organization president Catherine MacLeod on how its new moniker thinktv aims to inspire industry change.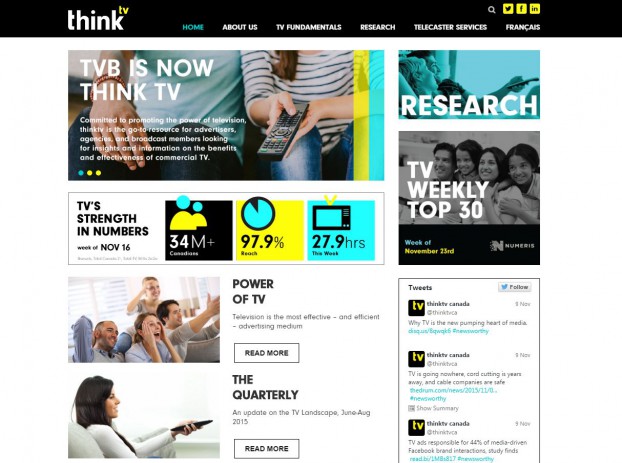 Lots of things about TV have changed since the Television Bureau of Canada (TVB) launched in 1961. One of the things that hasn't? The TVB's branding.
That's why president Catherine MacLeod and the organization's board decided to undergo a brand transformation, choosing the name Thinktv as the moniker to take it into its next chapter.
The new brand, Thinktv was developed with Toronto-based agency Frontier, and was the first of 30 names, says MacLeod. It won because it fit the bill as something fresh, modern and clean, but also because it cut to the core of the organization's mission.
Thinktv has the same name as TV promotional groups in New Zealand and Australia, but is not affiliated with either, according to a company representative. It also shares a name with a PBS educational channel in the U.S.
"It's a simple approach because we want people to think about TV," she says. "We aren't shying away from that."
The rebrand comes months after a complete refresh of the organization's executive team. MacLeod joined in April, new VP of marketing Laura Baehr in May and VP of media insights Kathy Gardner in November.
Those new leaders, along with new board members Stuart Garvie, president of media sales at Bell Media and Gerry Mackrell, EVP and head of sales, Corus Entertainment aim to get advertisers and agencies thinking about TV in new and modern ways.
"We will be attempting to work much more hand-in-hand with the agencies, to give them the research that they need, which will continue to prove the effectiveness of TV," she says.
MacLeod says traditionally the TVB was focused on local issues, but now wants to work to be the strong voice she thinks is much-needed in the television industry.
"For a long time TV was the only game in town," she says. "But now people forget about it, they don't talk about it. Everyone knows that it's there and that it works, but it's easier for naysayers to have a louder voice in the market."
In order to better serve the industry MacLeod says Thinktv will be bringing more research to market, both through commissioning larger projects and by producing smaller pieces in-house. The organization will also offer training sessions for agencies to help them better plan TV campaigns.
According to last week's IAB Canada CMUST report, TV still dominates all mediums with 98% reach. It also measured cord-nevers and the tuned-out (those who never use cable). According to the report, those people make up 19% of the overall 18+ market, with less people joining the cord-cutters ranks in French Canada (11%) compared with English Canada (15%).