Weak print landscape means more cuts at Star
The Toronto Star has let go of 28 people in the newsroom and circulation departments as it announces the introduction of a voluntary separation program.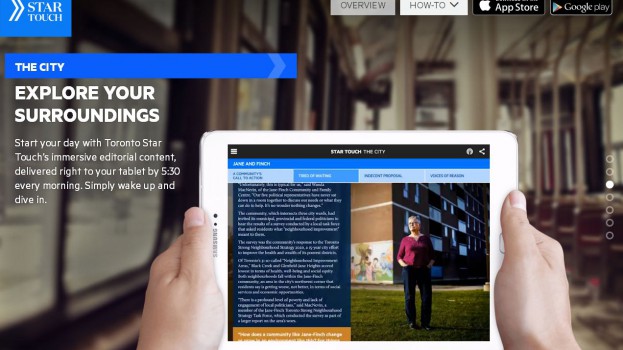 The Toronto Star has made 28 cuts to its staff in editorial and circulation as it continues to grapple with industry-wide declines in newspaper ad revenue.
The editorial cuts are centred on the paper's new Star Touch tablet app. In all 13 people will be departing the tablet team, according to an internal memo from editor Michael Cooke. Of those staff, 12 of them were on contract and one is a full-time unionized employee. A representative from the Toronto Star said 70 to 80 people were hired in advance of Star Touch going live, the majority of them on contract, with the longest terms going to the end of 2016.
Cooke attributes the job losses to the challenging economic environment for newspapers, noting that digital revenue continues to be a "work in progress" for the Star Touch team, as it is for most media companies. He adds that the company has seen some success online and growing subscriber numbers for Star Touch. The app had been downloaded by 100,000 unique users as of mid-November. Executives have said the goal is to reach 160,000 by the end of 2016.
The Toronto Star is also cutting jobs from circulation, outsourcing its customer service and administrative functions in the department. That change will result in the loss of 15 jobs.
In addition to the job cuts, the Star Media group will be launching a voluntary separation program for staff, beginning next week. The program is open to union members, but Cooke encourages any staff not in the union to also come forward.
Those Toronto Star staff reductions come following news that Torstar is closing its long-time Vaughan, ON-based printing plant, instead signing a five-year deal to outsource the work to Transcontinental. That move will mean the loss of 22o full-time jobs and 65 part-time jobs.
John Cruickshank, publisher of the Toronto Star and president of Star Media Group, tells MiC that the job cuts were planned to roll out at the same time as the announcement for the printing plant. He says the plant was built for a period in newspaper printing that "just doesn't exist anymore."
Looking into 2016, Cruickshank says that though securing national print ads is increasingly difficult, the Toronto Star is "finally" seeing some positive digital ad revenue numbers.