Viceland to launch across 25 carriers
Rogers and Vice release details on the launch date for the new youth-facing channel, which will reach over 60% of connected households across Canada.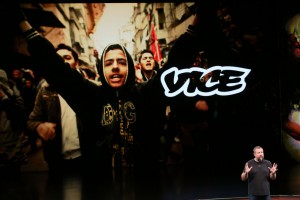 Details on the Viceland rollout emerged Friday, with Rogers Media and Vice revealing the launch date, carriers and preview strategy for the new youth-facing channel.
The companies have inked agreements with 25 BDUs across Canada to carry the channel, which launches on Feb. 29. It will be offered with a three-month free preview to each company's current subscribers.
The list includes Rogers Cable, Access Communications, Bruce Telecom, Cable Cable Inc., CityWest, Cogeco Connexion, Eastlink, Execulink Telecom, Hay Communications, Mitchell-Seaforth Cable TV, Northwestel, Novus, Riondel Cable Society, SaskTel, Shaw, Shaw Direct, Sogetel, Tbaytel, Telus Optik TV, Videotron, Westman Communications Group, Wightman Telecom, WTC Communications and YourLink Cable BC.
The combined total of these channel carriers will give Viceland a reach of 7.5 million households in Canada, according to Rogers Media. There were about 11.6 million subscriptions to traditional TV services like cable and satellite across Canada in 2014, according to the CRTC.
Among the Canadian titles to be produced out of Vice's Toronto-based studio are documentary series Cyberwar and Terror (with Vice co-founder Suroosh Alvi).
Vice announced in November 2015 that Viceland would be taking over Rogers Media's bio channel licence.