Shaw Media pulls back the curtain on set-top box data
SVP of sales Greg McLelland took to the FFWD Ad Week stage to share findings from the media co's testing to date.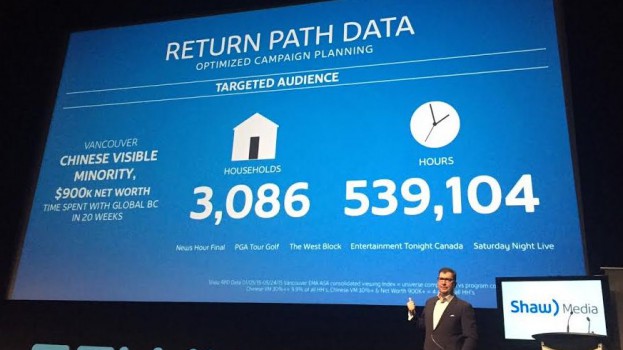 Shaw Media's set-top box testing and the valuable data around it was said by investors to be key in the media co's deal with Corus Entertainment earlier this month.
And yesterday at FFWD Ad Week the media co pulled back the curtain on some of the work it has been doing.
Greg McLelland, SVP of sales, Shaw Media, said the company has been using set-top boxes from Shaw Communications TV subscribers to build a database of anonymous user data for the past two years. It started with a test of 12,000 homes in Vancouver, then moved to 190,000 homes last year  in homes West of Thunder Bay, and the goal is to reach 500,000 Shaw customers across Canada by May.
That set-top box data is combined with programming logs, Environics Analytics and first-party data to create integrated audience data, or what McLelland's team calls "Next Gen Advertising." McLelland noted quickly and frequently that though the database can track down to the postal code level all data is anonymous and private.
By pairing TV viewing behaviour through set-top box data with first-party data and Environics Analytics, Shaw Media is able to break viewers in the database up into 12 product purchase segments, which can then be targeted with ads. The sub-groups within the database include grocery big spender (highest household spending on food), fashionista (highest household spending on clothing) and young metro diversity (young ethnically diverse families).
The media co's set-top box data is currently being updated on a weekly basis, with McLelland saying that will become daily within the next few months. The data is able to differentiate between viewers watching shows live, on VOD, or on PVR.
McLelland says because advertisers are comfortable with what they know, TV campaigns on the program can be purchased using the existing demographic model, but results are then shown using the audience segments. He says set-top box program clients currently make up a small percentage of Shaw Media's overall television sales, but notes the number has been growing steadily.

Going forward, McLelland's team plans to get the set-top box program on a programmatic TV platform. He says, however, in discussions with vendors across North America he has discovered the programmatic TV space isn't as advanced in either Canada or the U.S. as some media reports would lead people to believe.
Overall programmatic ad spend in Canada is expected to grow to $1.5 billion in 2017, according to a report from eMarketer.

McLelland notes that Shaw Media is also working with other Canadian broadcasters as part of the CRTC's set-top box working group, noting that any positive movement in the space is better for everyone involved.