Studio 71 launches dedicated culinary vertical
The Canadian arm of the global MCN has signed popular foodies Sarah Lynn Cauchon and Matt Basile, and opened a new kitchen studio for creators and brands.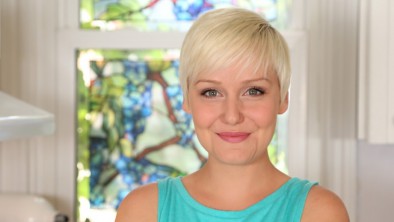 MCN Studio 71 has signed two prominent foodies in the Canadian culinary scene.
Sarah Lynn Cauchon (known on YouTube as The Domestic Geek, pictured) and chef Matt Basile (Fidel Gastro) are the first two creators to help the MCN's Canadian outpost launch a new food-focused vertical.
Cauchon, who launched her YouTube channel in 2014, has more than 600,000 subscribers and 35 million monthly views.
Basile, who also owns the Toronto-based food truck Fidel Gastro and hosts the reality show Rebel Without a Kitchen on Travel and Escape Channel, Cooking Channel and the Asian Food Channel, is newer to the YouTube scene. He's, so far, posted only a handful of videos since launching his channel in 2013. Through Studio71, Basile will partner with producer Kyla Zanardi to launch a new 1,500 square-foot kitchen and production space, which will be open to any aspiring food creators looking to develop new digital food content.
The food vertical continues to grow in popularity. According to the 2015 YouTube Lookbook, food and recipe videos were viewed 15.3 billion times in 2014.
At the same time, resources for creators are still limited, Jordan Bortolotti, EVP of Studio 71′s Canadian outpost, told StreamDaily.
Bortolotti said the new kitchen space will also help connect creators with brand partners looking to create online content, which, in turn, will help generate revenue for the network.
"There's a bit white space in the industry where there's a big appetite for food content, but there isn't a spot or a centralized hub where brands, creators and agencies can create," he said. "You either have to buy sponsorship on a really big established show, or you have to pay an arm and a leg to get access to a big commercial food environment."
Studio 71 (which just recently rebranded from Collective Digital Studio) is currently home to one of YouTube's most successful food brands, Epic Meal Time (which boasts just under seven million subscribers on YouTube). The channel was created by Montreal-based YouTuber Harley Morenstein.
"We've always identified food as an opportunity," said Bortolotti. "There are so many great brands here in Canada that are creating a lot of great food content, either with their own in-house content or with creative agency partners, so we're providing that link for them."
The Studio 71 network, owned by German media co ProSiebenSat.1, generates approximately 3.5 billion views per month. Some of its most noteworthy Canadian creators include comedian Lilly Singh (who boasts nearly eight million subscribers on YouTube) and Morenstein's Epic Meal Time.