Pattison's new Union Station video wall
The OOH company has expanded its advertising offerings with a video matrix wall in Toronto's busiest commuter station.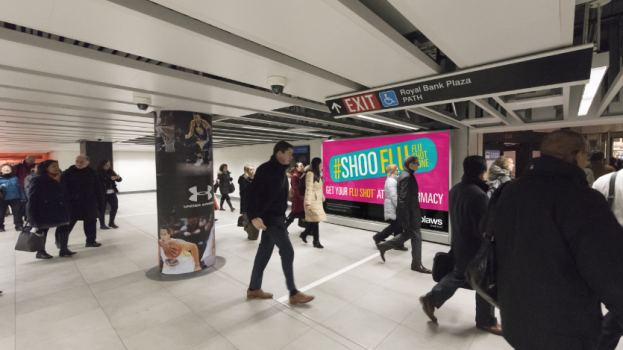 As advertiser demand for digital displays continues in the face of changing consumer media habits, out-of-home media companies are responding by growing their digital portfolios.
This morning, Pattison Onestop announced that it has expanded its digital transit network with an investment in a nine-unit video matrix wall in Union Station. In addition, it has also added to its stock of platform-level screens.
The new unit is a 11 by seven foot LCD video wall, which is positioned close to the entrance of the Royal Bank Plaza building. The space sees 280,000 commuters on a daily basis. Sixteen digital screens have also been added at the Museum and Sheppard stations.
The additions to its network are part of the Pattison Outdoor Advertising company's focus on providing advertisers with more digital advertising solutions, according to Cam Milne, VP and general manger at Pattison Onestop. 
Pattison has the contract for advertising for the entire Toronto Transit Corporation's network of stations. With 350 digital screens the company says its network can be seen across 97% of the TTC subway network, spanning the Bloor-Danforth and Yonge-University and Sheppard lines.