B.C. Honda Dealers launch campaign for new reality
The dealer association is live with 360-degree online videos aiming to target the dropping group of test drivers.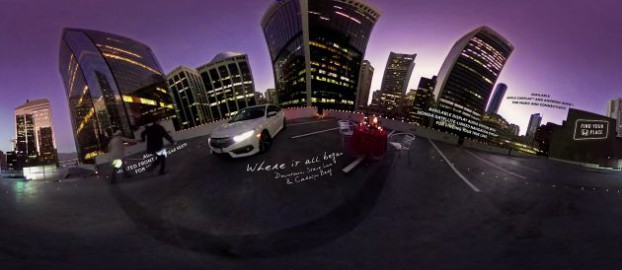 Car consumers are shifting their habits, increasingly using online research to make auto purchasing decisions, and visiting dealerships less. Ipsos Media CT numbers from April 2015 showed 34% of new car buyers only test drove one brand of car and 21% didn't test drive at all.
The B.C. Honda Dealers, along with its media agency Jungle Media and creative agency Level Eleven (formerly known as Elvis Communications), used that insight to develop its new campaign, a series of YouTube 360-degree videos placed in expandable Lightbox ad units that showcase features and benefits of the cars to potential consumers online. Cars in the ads are placed within B.C. environments and feature people interacting with the vehicles, while encouraging viewers to use the 360-degree view.
Andrew Grant, media supervisor at Jungle Media, says that showing off the features of the cars in the videos was important, because they play a key role in the last few months of the purchase cycle.
"The role of online media in auto retail now has to include information on features and demonstrations of benefits that would previously have been the domain of dealership sales teams," he says. "Executing the program online also allowed us to remarket to people who've viewed the videos with call-to-action display ads that significantly helped drive conversions on the B.C. Honda site."
The set of three videos were uploaded on Feb. 10. Since then, from the six million impressions served, 56,000 people have clicked on the ad to expand it or seen the 360-degree videos, an engagement rate that is three to four times higher than the benchmark. The videos will be live until March 20.