Les Affaires launches high-end supplement
The Quebec-based publisher is giving advertisers one more avenue to reach its high-end business community readership.
TC Media is out with a new advertiser-facing offering. The Quebec-based publisher's content services arm released the first issue of its new luxury-focused paper supplement to Les Affaires this morning.
The supplement, Style, will be inserted into and distributed with the newspaper five times a year.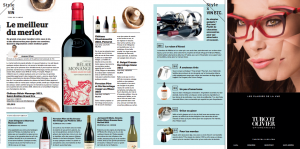 Style focuses on trends relevant to the high-end consumer; its first issue covers fashion, beauty and the home. 
The 16-page supplement has a reach of 477,000 readers and targets a largely male audience in the 34 to 54 demo, although Style's publisher, Lise Paul-Hus says that a supplementary audience includes "business women who play an active role in the couple's purchase decisions."
Style will cover a range of topics including technology, travel and wines and spirits.