Newad blows out 21 candles
The OOH company's founder and CEO Michael Reha on the changing industry and how his team is ringing in its birthday year.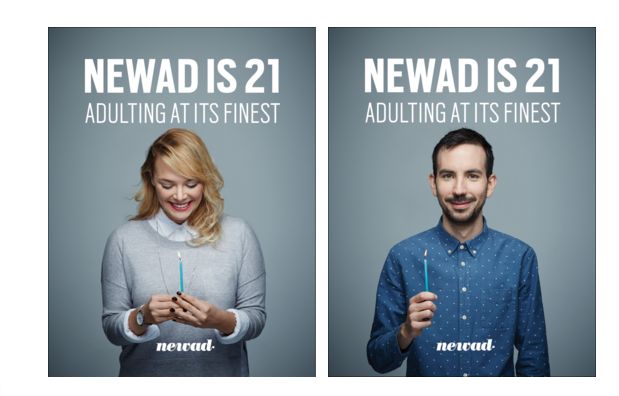 When you're a youth-focused company how do you cope with the idea of reaching adulthood? If you're indoor OOH company Newad you grab the opportunity and celebrate turning the age that's typically synonymous with growing up.
Michael Reha, founder and CEO of Newad, is celebrating the company's 21st birthday with a campaign focused on "Adulting at its Finest."
As the company reaches adulthood, it is also adapting to a more digital world, about 35% of the company's revenue currently comes from digital boards, and Reha expects that between 50% and 75% of its inventory will be digital in the next four years. Newad currently has 1,500 digital screens and Reha says that will grow to 4,000. Though he still also believes that large scale static boards will have an appeal for clients that don't want to be seen in a loop with other ads.
When he founded Newad, an indoor OOH company that currently has 40,000 digital and static boards across 5,000 locations in Canada, Reha faced opposition to the platform. Targeting adults aged 18 to 49 with indoor ads turned out to be an idea that potential clients approached with caution, forcing Newad to pay for its first campaigns out of its own pockets to demonstrate the effectiveness of the platform.
"When we started the business 21 years ago mediums that existed to reach young adults were very scarce," he says. "OOH was really the way to go, especially placing ads where the target demo was hanging out. It made sense for us to exist and to build a business around that."
Since its 1995 launch, the company expanded to other young adult-targeting platforms with event marketing and websites, and then refocus on indoor OOH in 2015 with the acquisition of OOH assets from its major competitor Zoom Media. Reha said that deal added about 22,000 boards to its network and gave them an 85% share in the category.
Newad's continued confidence in indoor OOH comes from the same idea that Reha had when he launched the company, in placing ads where the target is spending their time.
"OOH still remains a very effective medium because it is still where people congregate," he says. "I don't have the problem of attracting people to my platform. And people are OK with being advertised to when they're outside because they expect it."
The first ads celebrating Newad's 21st anniversary have rolled out into the company's agency network of signs, with parties planned for Toronto, Montreal and Vancouver.
Newad's evolution is being celebrated by the team with a contest called "Start-Up 21." Launching in late April, the contest is looking for 21 innovative companies who will win free advertising to promote themselves on Newad's network. More details on the contest will be available in the weeks before it launches.