Virool receives funding boost
The native video advertising platform has received a $12 million injection to help grow its international presence, including in Canada.
Native video advertising startup Virool has announced that it will now be able to scale its global operations. The U.S.-based company received its first round of venture capital financing to the tune of $12 million through new investments by Menlo Ventures, Thomvest Ventures, and Yahoo Japan.
The company plans to expand its presence in fast-growing advertising market with this round of funding. Virool's demand and sell-side platform allows publishers and marketers to manage, design and monitor their video advertising campaigns. It offers in-line video as well as pre-roll campaign.
Alex Debelov, CEO of Virool, stated in a press release, "Our technology continues to push the limits of what's possible for digital video as the market shifts advertising dollars from TV to digital in an emerging cross-screen world."
Earlier this year Virool hit a company milestone, having run 75,000 video ad campaigns on its network. It also announced the launch of a new optimization engine to help clients better access their audience through its DMP. Its KPIs include social share rate, viewability, CTR and views.
The addition to the DMP comes on the heels of Virool hitting the milestone of running 75,000 video ad campaigns on its network.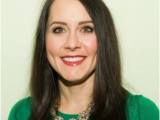 Virool expanded to Canada in August last year, tapping former AOL head of sales Alicia Elliot (pictured, right) to lead its Canadian growth. Chief revenue officer Brian Danzis said his team identified Canada as a key market because of its appetite for online video. Since 2014, digital ad spend in Canada makes up the largest part of the overall ad spend pie, comprising roughly $3.5 billion last year.
Artem Burachenok, founding partner at Flint Capital, one of the seed-round investors who has contributed to its Series A funding, stated in a release that Virool is a good investment because "it is shifting an industry from 'one-way' mediums like television to interactive, digital environments. Online video advertising is a massive market, with at least 10 [times] growth potential in terms of effectiveness, and Virool is very well positioned to take the lead in making it happen."
The online video market in Canada is indeed growing. According to a recent white paper from the Association for Canadian Advertisers (ACA) and Nielsen, gains in digital video will come at the cost of drops in television spend in 2016. With close to 50% of media budgets expected to stay flat,  the 100 Canadian marketers surveyed for the study said they will drop average budget share points to the platform by an average of 3.5 this year. By contrast average budgets share points for digital video are expected to grow by 2.1 in 2016.
However, according to a Nielsen study of Canadian consumers from 2015, ads on TV drive more consumer action. Asked about which platform drives them to take action after seeing an ad, 57% stated they were motivated by TV ads while 30% said they responded to an online video ad.