Tubular Labs bows new ranking system
Industry experts say that, while video analytics have come far, there needs to be a standardized model to help brands determine a video's success.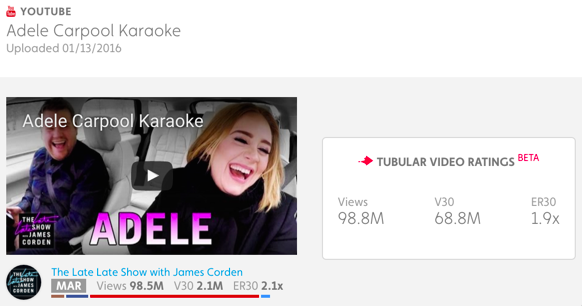 By Bree Rody-Mantha
Data is everything in the ever-changing world of digital video, as anyone in the online ad and branded-content space is already keenly aware.
But, equally true, much of the available data is difficult to understand and valuable metrics can be hard to pin down, leaving many brands struggling to figure out what truly makes a video a success.
"You have organizations like comScore and Nielsen that measure views. The problem is, views aren't everything," said Chris Dorr, president of the Global Online Video Assication (GOVA), a non-profit organization aimed at promoting growth in the online video industry.
Mountainview, CA-based digital analytics and ranking firm Tubular Labs says it's found a way to fill some of those measurement gaps with the introduction of a third-party analytics platform.
"Online video has become really important to a lot of brands, and you want to make sure it's worth it," said Tubular Labs co-founder and VP of marketing Allison Stern.
The new platform, Tubular Video Ratings, will provide both brands and influencers with a set of standardized metrics for every video they publish on YouTube, Vine and Facebook.
Stern said the system will give brands a better idea of where they stand in their respective verticals.
The two biggest factors that are part of Tubular Video Ratings are what's dubbed "V30″ and "ER30″ — views that a video gets in 30 days; and engagement that it sees in the first 30 days. The measurements can be applied to individual videos as well as entire channels.
The company claims that the platforms marks the first time that engagement and views for original video content (not a pre-roll or banner ad) are ranked across a large video network (which consists of more than 100 million videos and five million brands and influencers, according to Stern).
In most cases, social-media platforms already display video views, but views are only a small part of the total audience engagement picture.
"For one thing, how do you really measure a view? A view on YouTube is different from a view on Facebook is different from a view on Vine," said Stern.
The importance of views can also differ across all sectors: "Some brands are really trying to create that viral kind of hit — like a movie trailer or a music video, or when The Late Late Show with James Corden did the lip-sync video with Adele," said Stern. (The Corden/Adele video, pictured, has received nearly 100 million views since it was published in January.)
Other campaigns, such as those in the B2B sector, might be more focused on engagement, that is, "who's shared it, who's like it, who's commented, who's gone on to watch the rest of your videos," said Stern.
The other major problem facing brands is putting those views and analytics into context.
"With a lot of our video clients, we've found the one thing there is is no common language for people to understand how their videos line up," said Stern.
Jonathan Davids, founder at CEO at Influicity, a marketing company which works with networks, brands and talent, said that while analytics have come a long way, the key is to have as many brands and influencers speaking the same language as possible.
"Oftentimes, at the end of a campaign, we'll submit it to clients and say, 'Well, it got this much engagement,' and they'll say, 'Okay, so what?' People want to know how it stacks up against their competition, against how they did last year. It's not just enough to know about your video or campaign, it's about how it stacks up across the genre or industry," said Davids.
Dorr agreed, with the fast-moving digital landscape, getting all players speaking the same language is crucial.
"It's best to think of rankings like a currency. If you can come and say, 'My engagement is X,' that number immediately means something because it's a consistent currency across all verticals and videos," he said.
Davids added that more data is always better for those creating videos, and hopefully in the future analytics platforms will be able to dive further than just views and engagement, focusing more on geographic location, demographics and response to influencers.
"Geotargeting is something that we hear about all the time… Everyone wants to know how to engage people from specific regions. Another term we often hear is 'brand-safe.' Brands want to work with influencers who they don't have to script or control very much, but they're brand-safe, so figuring out how to select good talent to work with it always a priority for brands," he said.
Tubular Video Ratings is currently available in beta and, according to Stern, may update its features following the beta period.
From StreamDaily