Want to advertise for free in Vice Magazine?
The media company is reaching out to buyers with an unusually generous offer ahead of its June relaunch.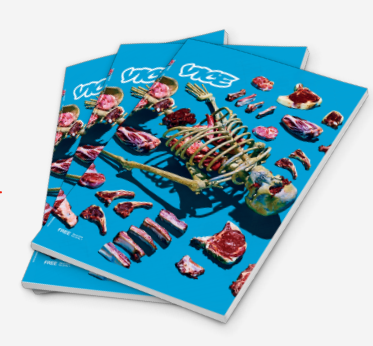 Vice magazine has developed an unusual  frequency-buy pitch to entice advertisers into a long-haul relationship as it prepares to present its new, redesigned face.
Ahead of its Canadian relaunch, the publications' sales team has put out the aforementioned offer: "To celebrate this momentous occasion, I'm personally offering up 5 x FREE ad pages in our June issue," writes Ryan Fuss, CRO at Vice. 
The free ads are available only if you buy into future issues.
The scale of the offer signals challenging times for the publisher, according to Cynthia Rubino, director media investment at Novus. "You might get two free ad pages for a frequency buy. Five is unusually high."

The sales pitch also includes an appeal to advertisers to play their part in saving the world of print journalism.
"You'll be not only supporting an iconic Canadian brand, but the Canadian print industry as whole," continues the note from Fuss. "We're flexible with rates, open to unique, non-traditional formats, and can even produce creative for you as part of the package."
The company announced in December last year that it was preparing for a relaunch of its iconic magazine. The magazine relaunched in the U.S. market in March, and is now being prepped for its big day in Canada. 
The redesign was timed to coincide with the company's 21st anniversary. The refreshed magazine was expected to have its usual content but would include more cultural coverage, as well as columns from a host of new writers on trending topics such as sex and finance. In addition, the new Vice magazine would fold in news, views and other content from across its digital channels, which include Noisey on music, Motherboard on technology and Broadly on women's issues.
To expand its reach, the company is also distributing copies in advance to select influencers to promote the issue across their social channels. Influencers include fashion and lifestyle blogger, Gracie Carroll, television and radio personality, Geroge Stroumboulopoulos and pop culture YouTuber Sam Sutherland.
Vice is distributed across five Canadian markets and has a circulation of 17,700 in Toronto and the GTA, followed by 14,000 in Montreal and Quebec and 13,000 in Vancouver, according to the company's data. The publication is also distributed for free in certain hotels, galleries and other venues. It has a global circulation of 1.2 million. In Canada 26% of sales are from subscription, with the remainder from the newsstand.