Adult colouring craze hits Cottage Life
Beaver Homes & Cottages sponsored the colourful idea, which is a first for the magazine.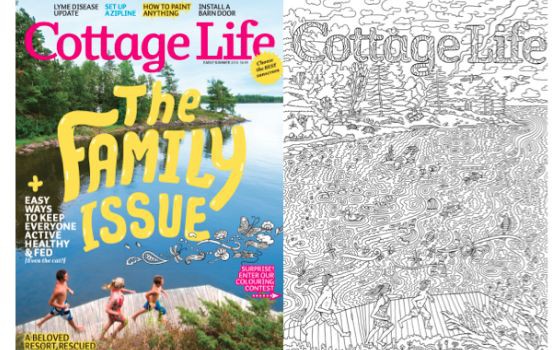 The adult colouring craze has expanded its reach, hitting magazine stands this month as part of Cottage Life's early summer family issue.
Beaver Homes & Cottages, a division of Home Hardware, bought the tear-out colourable page, which is printed on uncoated paper stock. The colourable page is a replica of the issue's cover photo, which shows a set of kids running along a path that's overlooking a lake.
The execution is a first for Cottage Life, with the idea being conceived by the magazine's editor, Michelle Kelly, and pitched to Beaver Homes & Cottages as the first potential client, said Lisa Barton, director of print solutions, Blue Ant Media.
Readers who colour the page are encouraged to share the final result on Instagram and Twitter, and hashtag it with #CottageLifeColours. A judging panel led by Cottage Life will determine the best entry, and will award the winner with some of the magazine's branded merchandise.