Twitter Canada reveals the nation's top 10 emojis
The cry-laughing emoji was ranked as the nation's most-used emoticon in 2016.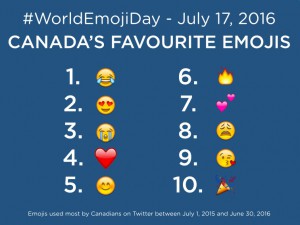 Twitter Canada has revealed the nation's top 10 emojis for 2016, with the cry laughing emoji claiming the list's top spot.
Released ahead of this Sunday's #WorldEmojiDay, the "Top 10 Most Used Emojis by Canadians in 2016" ranked the heart emoji in second position and a crying emoji in third. Other emoticons making the nation's top 10 were hearts, smiley faces and the blowing-a-kiss emoticon.
As well, Twitter Canada ranked the top three emojis used in tweets mentioning Justin Trudeau. The national flag topped that list, followed by a heart emoji at number two and praying hands at three.