Where borrowing (tools) knows no limits
The Toronto Tool Library's first major campaign aims to build membership and knowledge of its resource-sharing ideology.
Looking to correct any misconceptions about work tools being a playthings just for big boys, the Toronto Tool Library is out with a re-positioning campaign that pairs up unlikely tools and situations.
And what, you might ask, is the tool library. It's the equivalent of a book library for tools, and in Toronto they're housed in a centre with four sites that collectively rent out 5,000 hand, power and gardening tools to members.
In the ad campaign developed by Fuse Marketing Group, tools take on a new meaning.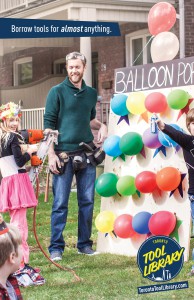 Take these two examples of what you could do (but might not want to do) with a tool rented from one of the library's four locations: perfect a creme brulee with a blow torch or, say, let kids pop balloons with a nail gun (yikes!) at a birthday party.
The campaign is the first large-scale of its kind for Institute for a Resource-Based Economy (IRBE), a Toronto-based non-profit organization, which runs the Toronto Tool Library.
Ad creative for the campaign includes three video ads and three print ads, and the media buy (handled by the Toronto Tool Library) for the campaign is mainly digital, with postings on social media: Instagram, Facebook and YouTube. As part of the organization's community-sharing philosophy the print ads will be posted across the city and on community boards.
The Toronto Tool Library hopes that the campaign will not only spread the message of the value of a shared economy but will also grow membership in the four areas where it exists: Parkdale, Danforth, Downsview and an express shop on Spadina.