Travelling alongside passengers at Billy Bishop
Clear Channel Canada has launched six new advertising faces at the Toronto airport, aimed at capitalizing on moments in the traveller's journey.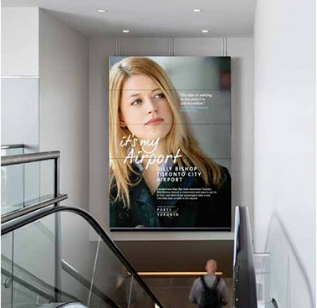 One day after officially losing its access to advertising faces at the country's busiest airport, Clear Channel Canada has announced new digital boards and an advertising strategy at Toronto's second airport, Billy Bishop.
The OOH company has launched six digital displays of varying sizes placed strategically at locations through the airport to match the passenger's arrival and departure journey.
Alain Simard, VP, marketing, told MiC the new faces are part of his company's strategy to digitize its boards in response to advertiser demand.
The six boards include two 40′ x 4.5′ faces by the check-in area where the company says a traveler spends about four minutes on average; two 8′ x 11.25′ in domestic and trans-border post-security areas where travelers spend about 55 minutes on average; and two 95″ displays in both arrival areas.
Passengers are most alert in check-in areas, the company says, because of their focus on flight details. That, it says, is the best time to hit them with a strong brand message. Of course passengers need to walk through a tunnel to get to Billy Bishop; rights to that area are with Black.
Some 2.5 million passengers went through Billy Bishop airport in 2015.