Montreal's OOH to expand with Taxelco acquisition
The Montreal-based transportation co will re-outfit its newly acquired fleet of cabs and scale up ad ops.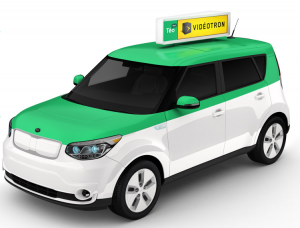 A transportation provider is building a master plan in its native Montreal that will give advertisers multiple new ways to reach the city's residents on the go.
Earlier this week Montreal-based electric taxi company Taxelco announced its acquisition of Montreal's biggest taxi fleet, Taxi Diamond. The 1,600-cab operation was picked up after Taxelco invested in another Montreal service Taxi Hochelaga, a paratransit service in the city's east end.
The moves build on a previous announcement earlier this year which saw it tie up with Quebecor Media to provide its fleet of 120 electric cabs with media content from its publishing arm, as well as advertising content.
The electric taxis have advertising options that include space on electric charging stations, digital roof-top signs and in-cab digital tablets.
Taxelco now has plans to convert its fleet of 1,600 Diamond taxis into hybrid vehicles over a four-year period carrying the same advertising features as the Teo cabs.
Marc Petit, chief of operations at Taxelco told MiC the company aims to have 200 cars converted into hybrid vehicles by the first quarter of next year.
"We want to differentiate ourselves with the in-car experience," he said. The converted fleet, which the company aims to own as it transitions from its current independent-owner model to one where drivers can rent the vehicles from them. The converted Diamond cabs would have a different colour, a roof screen, free WiFi and in-cab tablets.
The deal will also benefit Quebecor Media, which currently has the Teo Taxi account, expanding its reach 15 times .
And the company has plans to either franchise its model or pick up business in other markets. "We have the right footprint. We will soon be in Quebec City and we believe the model would fit well in other Canadian cities where there is poor urban infrastructure."