Spotted! Putting World Alzheimer's Day on the radar for millennials
Engaging younger Canadians is the goal of The Purple Elephant, which staged a Union Station activation last week to get people sharing memories.
Toronto commuters might have passed by an unusual set-up at Union Station last Wednesday, which was World Alzheimer's Day.
The Purple Elephant, a non-profit that raises awareness and hopes to reduce the stigma of Alzheimer's disease among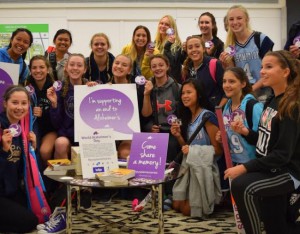 young people worldwide, had made the York Promenade more homey than usual, placing a La-Z-Boy purple couch and surrounding chairs in the area. The goal was to get passersby to stop and stay awhile, sharing memories about people who have been impacted by Alzheimer's.
Caitlin Johnston, founder and executive director of The Purple Elephant, said this was the first public-facing media activation for the non-profit, which was aimed at raising awareness. The activation was done in-house with support from Jelly Marketing, and props provided by La-Z-Boy and Indigo.
"We are trying to reach those aged 35 and younger," she said. "No other Alzheimer's group reaches that target. We want people to start taking care of their brains in their early 20s so they have a 50% less chance of getting dementia."
Goals for the non-profit going forward are to continue to raise awareness, as well as raising money to help young families who have been impacted by the disease, says Johnston.