The Grey Cup gets creative with OOH
Promotion for this year's CFL championship have kicked into high gear, with an emphasis on attracting general sports fans by tying into Toronto landmarks on social media.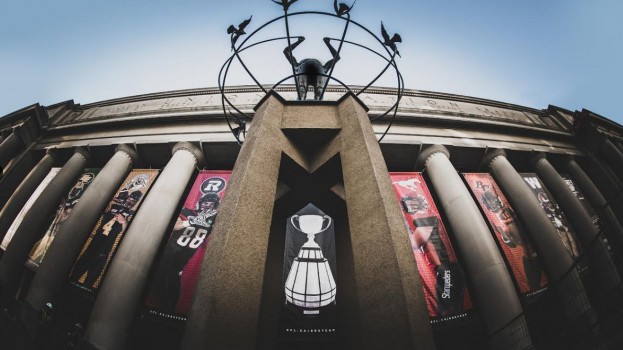 This year's 2016 Grey Cup is being hosted at Toronto's BMO Field, and though tickets went on sale in the summer, a crowded sports market meant that promotions for the game is only going into high gear this month.
Sara Moore, COO of the 2016 Grey Cup Festival, said promotions are being aimed at the typical die-hard Grey Cup fans who have been attending for years, as well as general sports enthusiasts who are likely to attend because of the spectacle nature of the event.
Taking a more interactive approach to static OOH posters, the CFL has posted a series of large banners at Toronto's Union Station. The nine banners will include one for each team that is still in the running for the Grey Cup, removing logos each week as the playoffs advance. Eventually, said Moore, there will only be the two final teams remaining, with the other banners swapped out for general Grey Cup-promotional posters.
In addition to the OOH ads, there is a social media campaign that started Nov. 1 called "Grey Cup in the 6ix," which posts an image of the championship trophy each day in locations around the city on Facebook, Instagram and Twitter.
The campaign, which is being produced by the CFL and broadcast partner Bell Media, also included TV spots, radio and direct mail.
The Grey Cup Festival official kicks off Thursday Nov. 24 with The Nissan Titan Street Festival starting on Friday Nov. 25 and the Grey Cup Festival Kickoff Party at Ripley's Aquarium of Canada. The celebrations move to Exhibition Place on Sunday, with tailgate parties and the 104th Grey Cup presented by Shaw.
Image by Johany Jutras