Did Workin' Moms marketing campaign payoff?
It was hard to miss CBC's massive promotional campaign for its new original comedy, which helped net the premiere 1.2 million viewers.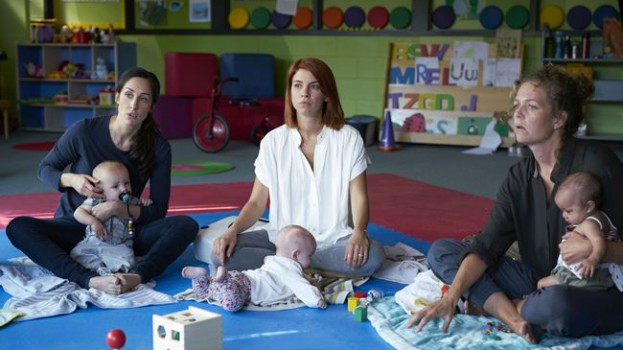 It was hard to miss the blanket of promotional activity for CBC's new original comedy Workin' Moms in the weeks leading up to its premiere.
Showrunner/producer/star Catherine Reitman – as her character, Kate – was pictured on billboards across the country, clips of Kate pumping breast milk in a bathroom stall flooded Instagram feeds and populated CBC's YouTube channel and, of course, commercials announcing the series dominated the pubcaster's airwaves.
Bonnie Brownlee, executive director of  Communications, Marketing and Brand research at CBC said the social, outdoor and on-air campaigns began six weeks ahead of the show's Jan. 10 premiere.
"We spent a lot of time strategically making sure that we were giving fresh new content on our platforms so that we could continually find a way to try to engage the audience," she told Playback Daily. The reason, she said, was to avoid consumer fatigue.
On its social platforms, the CBC added new clips, memes and content on a weekly (and sometimes more frequent) basis, all of which was created and pushed out by CBC's in-house marketing team. It also partnered with eight social media influencers over the six-week period, including She Does the City, The Rebel Mama and So Sasha to build awareness and conversation around the premiere of the series. Its influencers blogged about themes from the show, targeted the parenting community and hosted Twitter parties during the premiere and Facebook live aftershows.
The CBC targeted the 25 to 54 demo, and was specifically looking to attract women and, of course, working mothers.
Workin' Moms premiere reached an average (2+) audience of 619,000 with 1.2 million tuning in to at least some of the show's premiere, according to overnight Numeris data provided by the CBC. Of that viewership, 45% (279,000) were in the 25 to 54 demo.
Katherine Wolfgang, head of publicity for CBC, said live +7 PVR viewing for CBC comedies typically adds 30% to 40% to the overnight numbers and that the pubcaster expects PVR viewing to be even higher for Workin' Moms given that it was up against President Obama's farewell address. (Numeris data on how many Canadians tuned into Obama's farewell will not be released until Jan. 24.)
While CBC would not reveal its marketing and advertising budget for the series, Brownlee said it is a "priority show for the network."
"We're using every tool in the toolkit to help promote shows we believe in in new and different ways," she said.
The series bowed directly after the season three premiere of Schitt's Creek, as part of the pubcaster's Tuesday night comedy block. Schitt's Creek's premiere pulled in an average (2+) audience of 781,000 (1.6 million total reach), with 40% of the audience in the 25 to 54 demo (up 24% from the season two premiere. Brownlee said scheduling Workin' Moms after Schitt's was part of the CBC's strategy to pair "quality shows" together so it could piggyback off the established audience of Schitt's and other Tuesday night programming, including Rick Mercer Report and 22 Minutes.
From Playback Daily