Parmalat partners on Toronto food festival
Black Diamond has been named title sponsor of a cheesy event that draws big crowds.
Parmalat's Black Diamond Cheese has signed on as the title sponsor of this weekend's Mac and Cheese Festival, which last year drew big crowds in Toronto.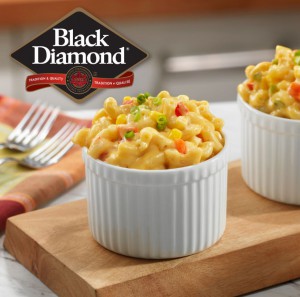 Black Diamond will be on site with a tent where visitors can taste the brand's three new flavours: Monterey Jack with Jalapeño, Brick and Extra Old Marble, said Reesa Arshoff, assistant brand manager, cheese, marketing, Parmalat.
The brand will also have a contest on-site where visotors could win free cheese for a year.
Last year's Mac and Cheese Festival was visited by 40,000 people, according to numbers provided by Parmalat.
Arshoff said the brand jumped at the opportunity the event presented – "after all, you can't have mac without cheese." And it's not the first festival partnership for the brand. It's also tied to the Family Channel Big Ticket Summer and the Black Diamond Balloon Festival in Quebec – "International de montgolfières" in the past.
The brand worked with its promotional and experiential agency House Media on the deal.