Les Affaires states its purpose
A new campaign seeks younger readers for the multiplatform publisher.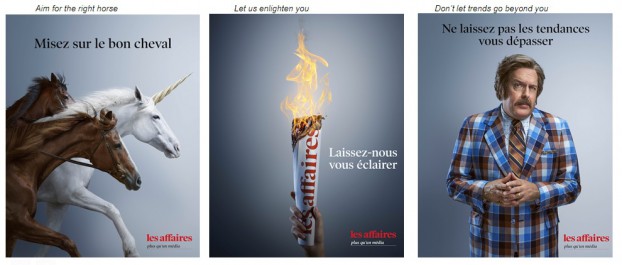 Quebec-based business magazine Les Affaires is stating its purpose with a new marketing campaign designed to promote its multiplatform content following a reduction in its print frequency last year.
The campaign, which was developed internally, is based around the tagline "Plus qu'un média" (or "more than media") and reinforces the pillars of the brand's mission: mobilize, connect and help the business community grow.
Targeting the French-speaking business community, primarily in Quebec, the title is aiming to attract younger readers as one of the goals of the campaign. Les Affaires currently has an average readership age of 52 in print, but it skews slightly younger to 44-years old online and 49-years old for readers that read both print and online.
At the end of 2016, Les Affaires' print publication reduced its frequency to 28 issues a year from 42, making it bi-monthly plus two special editions. The magazine publishes content online and pushes it out through six weekly newsletters. The magazine also hosts over 50 events a year, bringing in an attendance of 6,000 in 2016.
"The idea of the ads was to make them memorable," Esther Riendeau, marketing director for the business solutions group, TC Media. "We wanted them to be funny and dynamic so people remember the ads."
Spots in the promotion include a rolled up copy of Les Affaires acting as a torch with the copy "Let us enlighten you" and another with two horses in a race with a unicorn saying "aim for the right horse."
In addition to online and print ads, which will run over the next year, the campaign will highlight a new Quebec-based brand ambassador each month around topics like technology or innovation, which are aimed at connecting and inspiring the business community all year long.
The first such ambassador will be Monique F. Leroux, who is chair of the board of directors of Investissement Québec, chair of the Economic and Innovation Council, president of the International Co-operative Alliance and vice chairman and strategic advisor to Fiera Capital.