Rick Mercer Report to end after 15th season
The final season premieres on the CBC tomorrow.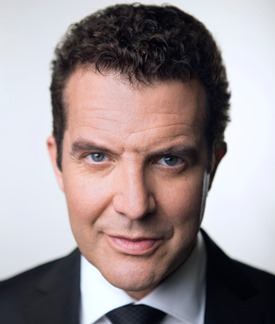 Political satirist and funnyman Rick Mercer announced today that the 15th season of CBC's Rick Mercer Report will be its last.
Mercer made the announcement in one of his signature rants (a pre-taped segment where he sounds off on a topic that has him riled up). The final season (22 x 30 minutes) premieres tomorrow, Tues. Sept 26 at 8 p.m. on the pubcaster.
The comedy series launched in 2004 and has since garnered four Geminis and 12 Canadian Screen Awards for TV writing and performance. Its 14th season attracted an average audience of 777,000 (2+), according to Numeris data provided by the CBC.
Mercer has had a long, successful career with the CBC. In 1993, he joined the pubcaster as one of the creators, performers and writers on This Hour Has 22 Minutes, the long-running topical weekly show that debuted its 25th season in September. In 1998, alongside Gerald Lunz and Michael Donovan, Mercer launched the satirical drama Made in Canada, in which he starred and contributed as a writer. His 2001 CBC special Talking to Americans became the highest-rated Canadian comedy special ever with 2.7 million viewers.
"Rick Mercer Report has evolved over 15 years but one thing that has always remained consistent is that I have always known that I have the best job in the country," said Mercer in a statement. "That has never changed. I can't tell you how much fun it's been. As far as what's next I have no idea, all I know is that the entire team is hard at work and we have started shooting what I think will be our best season yet."