Spotted! Wonderbra gets personal
The Hanes brand built on its strategy of getting closer to consumers with a Toronto pop-up shop.
Wonderbra Canada is in the process of tweaking its media strategy, increasing the weight it places on digital and social media and decreasing its presence on traditional media. Those changes have been made in order to connect on a more personal level with consumers, and also to cut advertising costs, said Marianne Cobb, GM, Hanes BrandsInc. Canada.
The strategy of connecting on a more personal level recently led to the creation of two pop-up shops for the brand, one in Toronto last weekend and another in Montreal earlier in the month.
The Toronto pop-up shop included the chance to meet with bra fitting experts, have hair and makeup touched up and get a gift bag.
Work on the space was done by Imago Montreal with public relations support from Bicom Communications. Visitors to the space earned the ability to get the perks by interacting with the brand on social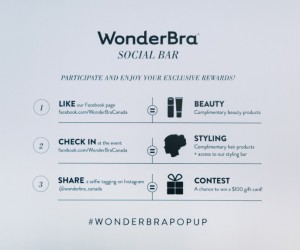 media. Liking the Wonderbra Canada Facebook page, for example, earned free beauty products.
There were 62 private fitting appointments throughout the day, with 122 gift bags distributed (you didn't need to have an appointment to get a gift bag, according to a company representative). All advance appointment slots were booked on the Wonderbra Canada site ahead of Saturday's execution. The Toronto numbers were slightly lower than the pop-up shop in Montreal the brand executed a week ago, where Wonderbra Canada booked 86 private fitting appointments and gave away 226 gift bags.
Visitors were also given a $5 off coupon that was valid for the day if they wanted to purchase the bras they liked on Amazon.ca using iPads in the pop-up boutique. Wonderbra Canada currently sells its products on Amazon, as well as at Sears and The Bay in Canada. In Montreal, the brand gave away 350 Amazon.ca coupons.
Cobb said the pop-up shops are part of a strategy to increase the amount of personal interactions that the brand is having with consumers.
"At a retail outlet, it can feel like a hard sell, and here we wanted to have an intimate day with us where they could get to know the products on a more intimate level," she said.
Wonderbra Canada generally targets consumers 35 and over, but activations like this one are aimed at bringing that average age down.
Cobb said her team was inspired to launch the pop-up shops by other brands launching similar activations, noting the urgency and call-to-action that they bring. The pop-up shops were promoted online through Wonderbra Canad's social media channels, as well as with paid Facebook ads.