A local news startup changes its mind on ad-free
Toronto's West End Phoenix still won't put ads in its print edition, but interest from local businesses has led to flexibility online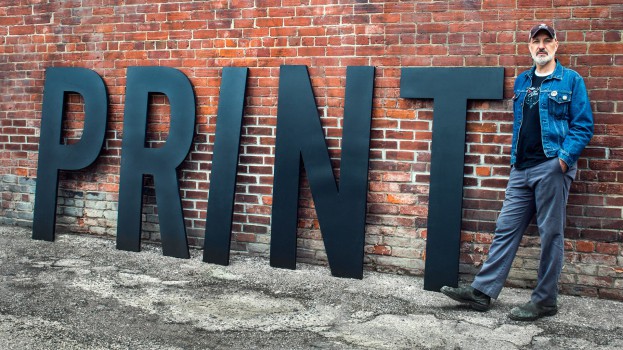 An indie start-up newspaper is updating its ad model – before the first issue is even out the door.
Dave Bidini, founder of The West End Phoenix (pictured above), initially set out to publish a completely ad-free newspaper when he announced the launch of the Phoenix earlier this summer. Now he's opening the publication's web site up to advertising and exploring new ways to get advertisers involved.
As major media companies scale back their local news organizations, independent operators have been exploring the space with community-driven funding models. With indie programs such as Canadaland finding success with crowdsourced funding, The West End Phoenix has become the latest player forging a path in a disrupted business environment.
Bidini is a Toronto-based author and a founding member of the popular Canadian band The Rheostatics. When he first announced his non-profit monthly publication (which will hit doorsteps in the west end of Downtown Toronto in the second week of October), the plan was to gain its revenue through subscribers and patrons buying in at pre-set donation levels (à la Kickstarter).
Bidini told MiC the publication has already met half its budget with 1,200 subscribers and predicts he'll hit 1,400 by the time the first issue rolls out. He's competing in a neighbourhood already served by Metroland's The Bloor West Villager and Parkdale-Liberty Villager, and the newly launched Annex Post, all of which are ad-supported.
Some brands, such as Blundstone Canada and Balzac's Coffee, are already serving as Phoenix patrons. Various levels of patron support offer recognition in the print issues, with the highest amount ($25,000) resulting in a quarter-page custom story.
But Bidini said an increase in curiosity from local businesses, artists and independent publishers about advertising has led to some flexibility on ads. "We kept having to explain to people that we were ad-free," said Bidini. But now, the Phoenix's website will run banner ads through direct sales. Bidini said this was prompted by interest from potential clients — not the Pheonix seeking out advertisers.
Despite this, however, Bidini wants to ensure that his publication doesn't become a "vessel for flyers. I want it full of content, and I don't want it going straight into people's recycling bin… We know it's a jeopardy launching a print product in this day and age. But we have launched this because it's the kind of thing we want to see ourselves."
With the website hosting digital ads, Bidini wants it to remain mostly unique from the print product, which he feels has been the undoing of many newspapers over the years.
"Newspapers and the modern age have had an awkward courtship," he said. "When newspapers first went digital, nobody could really figure out what they wanted them to look like online. So we don't want to try and take the meditative companionship of a paper and just create a digital version of that. Some of the articles may carry over from the paper to online, but the content from the web page to the paper will mostly be distinct."
And, although the paper will address local issues specific to certain neighbourhoods in Toronto, he's hopeful that the issues can remain fairly borderless. "For years, I would buy the Village Voice, but I've been to New York City once in my life," he said.  Some stories, such as development and housing issues, will resonate with readers outside of the specific community, which is where he said the website will also come in handy.
Bidini said the push to advertise is a sign that the community is curious about his product (of course, high-profile patrons like Margaret Atwood don't hurt). He said that while putting ads into the print product is still not likely, he's beginning to explore more ideas for integration, approaching potential advertisers about sponsored story series, which would also primarily live online. "Storytelling is our currency. It's something we can provide."