CBC unveils Christmas programming lineup
The pubcaster's festive slate includes a two-hour, B.C.-shot Murdoch Mysteries special and comedy MOW A Christmas Fury.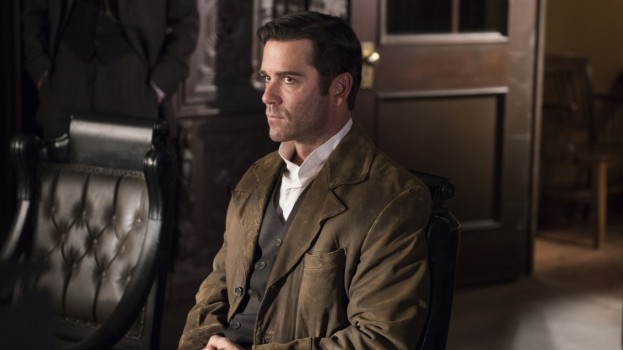 CBC has revealed its programming lineup for the December holidays, including a new two-hour Murdoch Mysteries special (pictured) and Christmas-themed episodes of The Great Canadian Baking Show, This Hour Has 22 Minutes and Dragons' Den.
Filmed on location in Victoria, B.C., Murdoch Mysteries: Home for the Holidays will air on Monday, Dec. 18 at 8 p.m. and again on Monday, Dec. 25 at 6 p.m. The special sees detective William Murdoch travel to B.C. to visit his brother and RCMP officer Jasper Linney (played by Dylan Neal), where they investigate a murder connected to an archaeologist (Megan Follows) who has discovered an ancient Indigenous settlement.
A Christmas Fury, which continues the story of the Canadian sitcom Hatching Matching and Dispatching, airs on Sunday, Dec. 3 at 8 p.m. The two-hour comedy reunites the cast from the original show, including Mary Walsh, Mark McKinney, Susan Kent, Shaun Majumder. The original Hatching Matching and Dispatching ran for a single six-episodes season in 2005.
Meanwhile, one-hour doc Dreaming of a Jewish Christmas premieres Thursday, Dec. 7 at 9 p.m. The project tells the story of a group of Jewish songwriters who wrote many famous songs including "Rudolph The Red-Nosed Reindeer," "Have A Holly Jolly Christmas" and "Do You Hear What I Hear?"
CBC will also premiereThe Great Northern Candy Drop on Sunday, Dec. 17 at 7:30 p.m. This half-hour animated special tells the story of an Inuk bush pilot called Johnny May, who flies over Kuujjuaq in the Nunavik region of Northern Quebec to drop candy, toys and warm clothing to the residents of the community.
A Christmas episode of This Hour Has 22 Minutes: State of the World airs on Tuesday, Dec. 12. After Christmas, comedy special Ron James: The High Road  will run Sunday, Dec. 31 at 9 p.m., JFL Gala – Montreal: An Intervention (Because We Love You) will air Tuesday, Dec. 26, 2017 at 9 p.m., and tribute concert Tower of Song: A Memorial Tribute to Leonard Cohen will go out on Wednesday, Jan. 3 at 8 p.m.
Christmas-themed episodes of various regular programs will also air throughout December, including The Great Canadian Baking Show: Holiday Baking Week (Wednesday, Dec. 6 at 8 p.m.), Dragons' Den (Thursday, Dec. 7 at 8 p.m.), The Goods (Monday, Dec. 11 through Friday, Dec. 15) and CBC Arts Exhibitionists Holiday Special (Friday night, Dec. 22 at 12:30).